The trifecta of Noodlecake news this morning comes with word that their surprise hit, Flappy Golf (Free), is getting new levels in the very near future. The new levels will be taken straight from the original Super Stickman Golf and reworked for Flappy Golf. And, Noodlecake mentions the possibility of those Super Stickman Golf 1 levels also making their way to Super Stickman Golf 2, something fans have been wanting for quite a while.
On a different and more surprising note, Flappy Golf is fast approaching being one of Noodlecake's most successful games. The game originally started out as just a joke, a developer taking their most popular game and Flappy-izing it in order to poke fun at the whole Flappy Bird phenomenon. But, as Noodlecake began showing the game to people, something crazy happened: people loved it. It turned out that flapping and Stickman Golf was a match made in heaven, so Noodlecake polished up the game a bit and officially released Flappy Golf in late March.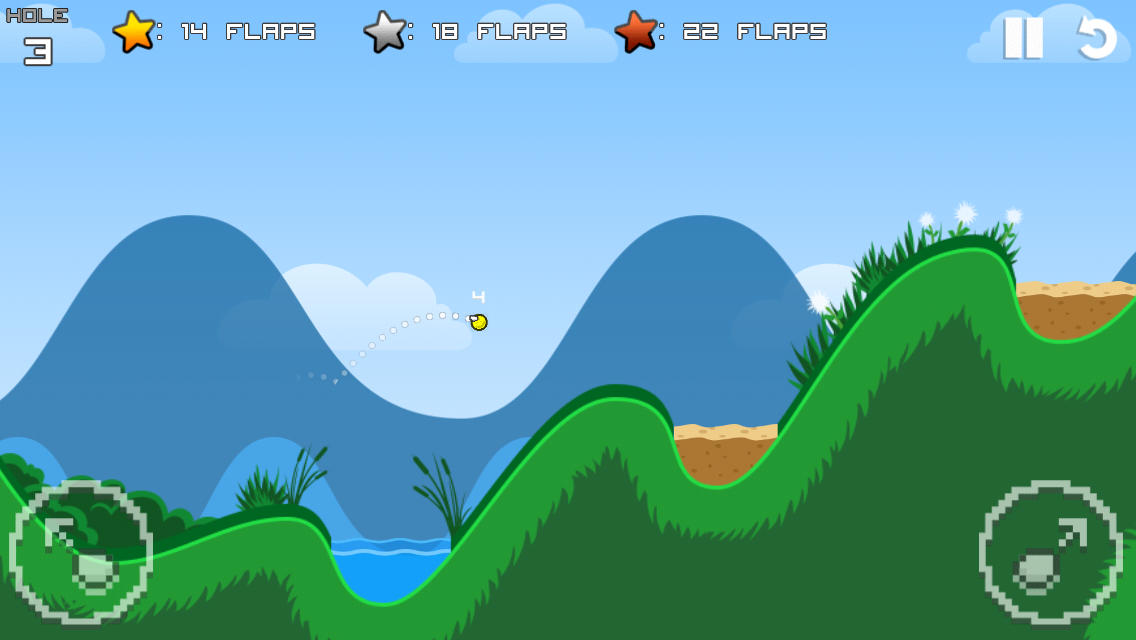 While it seemed like everyone they had previously shown Flappy Golf to loved it, Noodlecake still wasn't really sure how popular it would be in the great big world of the App Store. However, it was even more well-received than they anticipated, and so with it proving popular Noodlecake had the means to put a little more time and resources into developing the game further. A few weeks following its release, Flappy Golf was updated with the ability to remove ads via IAP, as well as both local and online multiplayer.
And here's where things get really interesting. Flappy Golf is doing almost the opposite of what successful games normally do. Most games spike really high in the charts right after release, and then slowly (or rapidly) fall down the charts, and how long or short that tail is can really determine how successful a game is in the long-term. In Flappy Golf's case, it actually started pretty slow but is slowly ramping up each week since the multiplayer update was released. The really crazy thing is that, according to the analytics behind the scenes, Flappy Golf's growth actually rises during the week, peaking during school hours, and then it drops off over the weekend (though never below where it was at the previous Monday). This strongly points to Flappy Golf being popular with school kids and spreading via word of mouth, one of the main factors many attribute to Flappy Bird's success.
I just find the whole thing fascinating, and hopefully Flappy Golf continues its atypical growth and ends up being Noodlecake's most successful release yet (that title is currently held by Super Stickman Golf 2, with good reason). So hey, if you're in middle school/high school currently is Flappy Golf a big deal on your campus? Do you often find that a random game will be getting buzz around your school before eventually showing up in the charts, kind of like A Dark Room or Blek? I'd love to know, as I'm far too old to know what's "cool" with the kids these days. Also, be on the lookout for those new courses to hit Flappy Golf in the not-too-distant future, and stay flappy my friends.
Update: Noodlecake has put together a graph of Flappy Golf's activity demonstrating the weird behavior. Keep in mind this is all organic with no promotions or advertising, just all word of mouth. Give the image below a click to expand to the full size: