Welcome to another Wednesday night and another huge batch of new iOS games. There's tons of cool looking stuff coming out tonight, and as always, Eli streamed many of them on our Twitch.tv channel earlier today. If you missed the live stream, you can find an archive video of it in our previous Coming Tonight post. Also as always, there are all the appropriate forum links and App Store links below, so make use of the information provided and go nuts downloading some new games!
…and then it rained
iTunes Description
… and then it rained is a minimalistic arcade game as well as an acoustic and visual experience.

Set in an abstract world, you have to catch colored and different sounding rain drops by dragging and reordering matching towers, resulting in a rhythmic and nearly meditative world of sounds and colors.

The gameplay is optimized for mobile devices: It's simple at the beginning with intuitive one-finger-controls, but later levels require fast thinking and good reaction times.

Different game modes let you decide whether you want the game to be a relaxing, Zenlike experience or a swift and difficult challenge.
Forum Thread: … and then it rained (by Megagon Industries)
---
Agent RX
iTunes Description
You are Agent RX. One of the best agent from ISEN. Unfortunately ISEN's secret military base,a floating fortress called ARIES has been compromised by unknown assailants. Only with stealth infiltration can recover ARIES. Are you up for it?

AGENT RX :Infiltration Zero is a single player top down stealth game, that places players in an espionage world where they would be required to solve puzzles to get around enemies to complete their goals AGENT RX is created on UDK engine, and has arguably one of the best environments and graphics for a top down stealth game.
Forum Thread: Agent RX (by Alfred Tay Poh Yi)
---
Bezircle
iTunes Description
Your screen becomes a fun-packed battlefield in Bezircle, on sale at launch! Capture orbs before anyone else and win using timing, tactical decision-making and one-touch skill! Huge single-player depth, infinite multiplayer mayhem, and mind-bending complexity with loads of boosters for puzzle and strategy fans of any age.

Bezircle has been developed by hit indie studio Ludomotion. Capture orbs to win the level by 'bezircling' them before your AI enemies or human opponents. Capturing special orbs boosts your performance and unleashes devastating effects on the arena. Adventure through the massive single-player campaign, or share your device with up to four players and compete in an infinite number of multiplayer arenas!
Forum Thread: Bezircle – (by Ayopa Games LLC)
---
Block Stock Solo
iTunes Description
Block Stock Solo is a Backwards Brick Breaker, like Breakout in reverse. Tap the screen to place blocks and defend your base from the attacking ball.

With 24 Levels and 24 Challenges, there's lots to keep you entertained!
Forum Thread: Block Stock Solo (by Michael Bowerman)
---
Botanicula
iTunes Description
Botanicula is a humor-filled adventure game created by the makers of award-winning Machinarium, studio Amanita Design and Czech band DVA.
Five friends, little tree creatures, set out on a journey to save the last seed from their home tree which is infested by evil parasites.
Forum Thread: Botanicula – (by Amanita Design)
---
Bridge Constructor Medieval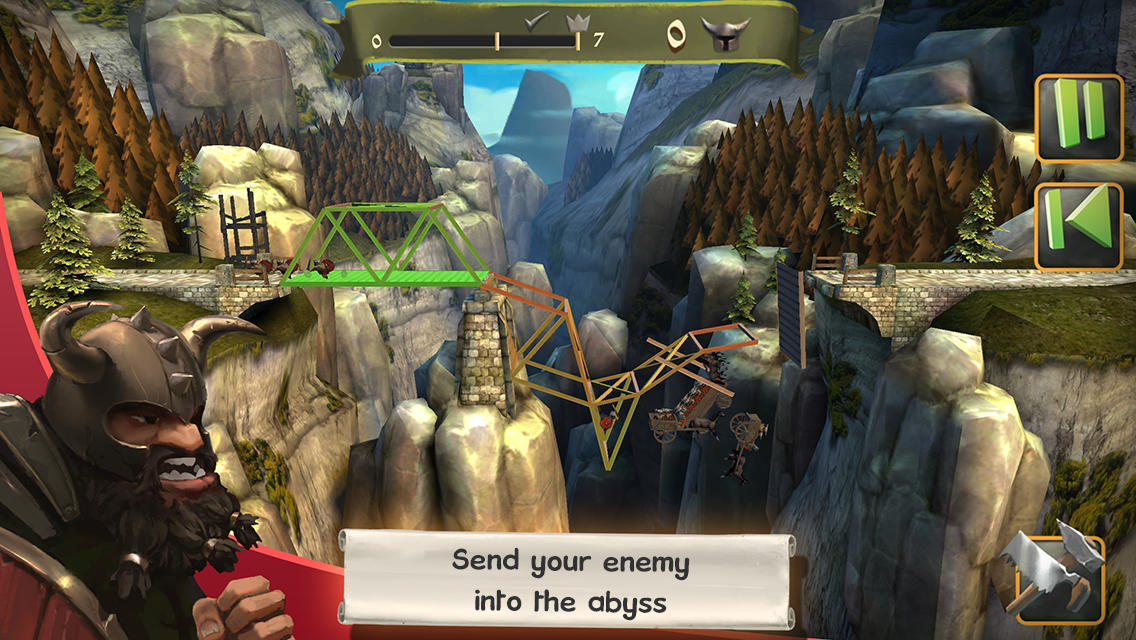 iTunes Description
Bridge Constructor Medieval turns back the clock a few centuries to the time of knights and castles. Build sturdy bridges to supply your city with provisions – or cunningly constructed bridges that collapse under the weight of attacking troops, sending the horde of enemies into the abyss below. You won't even be safe from cannon fire in the 40 brand new levels. Protect your foot soldiers and your horse-drawn carriages with covered bridges and stable pillar structures.
Forum Thread: Bridge Constructor Medieval (by Headup Games GmbH & Co KG)
---
Bush League: The Baseball RPG
iTunes Description
Welcome to Bush League, a baseball puzzle/RPG wherein you must gobble PED's and cheat your way stardom—just like in real life!

From the mind of Dirk Hayhurst, best selling baseball author, former Major Leaguer pitcher, and Baseball analyst comes Bush League, a match 3 style puzzle based baseball RPG that makes you into a PED abuser, and challenges you to out cheat your opponents by juicing up and exploiting a veritable cornucopia of PED fueled powers.
Forum Thread: Bush League: The Baseball RPG (Like Candy Crush with Steroids!)
---
Chaneques
iTunes Description
Combine the skills of these mexican pixies to solve fun and challenging puzzles. Retrieve the valuable objects scattered along the levels using the chaneque's abilities like pushing, digging, climbing, jumping and making bridges of themselves.
Forum Thread: Chaneques (by VillaVanilla)
---
Dwarven Den
iTunes Description
Solve puzzles to rescue fellow dwarves trapped in ancient, underground ruins!

Dwarven Den. Can you dig it?

In Dwarven Den, you play a jolly, little person on an epic quest. Your people discover that their dwarven ancestors are trapped in vast underground mines. Your task is to dig deep through ancient civilizations, solving challenging puzzles along the way, in hopes of saving the other dwarves. Can you dig it?
Forum Thread: Dwarven Den™ – The Mining Puzzle Game – (by Backflip Studios)
---
Fart in a Spacesuit!
iTunes Description
Help Beanz the flatulent French Bulldog explore the galaxy in this fun-filled Match-3 game.

Swipe and match the gas inducing foods inside Beanz's stomach to propel our canine hero through the vastness of space.

Become a GASTRONAUT today and boldly go where no Match-3 has gone before!
Forum Thread: Fart in a Spacesuit! (by Stormcloud Games)
---
Gear Jack Black Hole
iTunes Description
Gear Jack is back, in an all new endless adventure
with beautifully stylized graphics!

Jack is trapped inside the Black Hole, and he's running to save his life.
He will have to travel through time and space to take on lethal alien enemies, crazy traps, and more!
To make things worse, his ship, the W.Hale was absorbed by the Black Hole too.
and now all kinds of mechanical traps are floating around in the Black Hole!
Forum Thread: Gear Jack Black Hole – (by Crescent Moon Games)
---
Hack, Slash, Loot
iTunes Description
There are dark places in the world inhabited by evil denizens. Places filled with danger and foreboding where no ordinary man would dare to journey. However, there are a few who are willing to risk death in the name of good, in the name of justice, in the name of.. valuable loot!

Hack, Slash, Loot is a single-player turn-based dungeon crawler. Take control of a lone hero and explore sprawling dungeons, fight dangerous monsters, and most importantly, plunder valuable treasures.

Hack, Slash, Loot features thousands of items, monsters, and dungeon features, and with a new dungeon created every game you can be sure that no two plays will ever be the same. Boasting easy to master controls you'll be adventuring in no time, but there is still enough depth to challenge the most hardened of adventurers.
Forum Thread: Hack, Slash, Loot (by David Williamson)
---
Hazumino
iTunes Description
Run, jump and build your way to new worlds and high scores in Hazumino, the game that combines relentless endless-runner with tricky block puzzle gameplay! Play with a range of characters in cool worlds, compete against your friends and become a Hazumino master!
Forum Thread: Hazumino – (by Samurai Punk)
---
Intake: Be Aggressive
iTunes Description
Master your reflexes with the fastest shooter ever created!

Intake is the new retro-futuristic drugstep arcade shooter from Cipher Prime. In this psychedelic shooter, you battle a never-ending barrage of pills, pushing your skill and reflexes to the limit to avoid a lethal dosage. Blast and combo your way through an epic cascade of audiovisual mayhem so intoxicating it comes with its own warning label.
Forum Thread: Intake: Be Aggresive (by Cipher Prime Studios)
---
Jungle Rumble: Freedom, Happiness and Bananas
iTunes Description
Drum to control a tribe of monkeys!

Jungle Rumble is a rhythm game like the world has never seen. A rival tribe invades to steal your bananas. Drum on the screen to send monkey minions into the fight. Send your tribe on an epic quest for freedom, happiness, and bananas!
Forum Thread: Jungle Rumble: Freedom, Happiness and Bananas (by Disco Pixel)
---
Lethal Lance
iTunes Description
Lethal Lance is an old school side scrolling platformer.

You are Lance, a fearless adventurer.
Your mission is to save the world from an evil enemy with your skill and … YOUR SHOTGUN!
Defeat all the enemies on your way to successfully complete your mission.

Run, jump and shoot – this is all you'll need to become a hero.
Forum Thread: Lethal Lance – (by Bulkypix)
---
Mental Hospital: Eastern Bloc II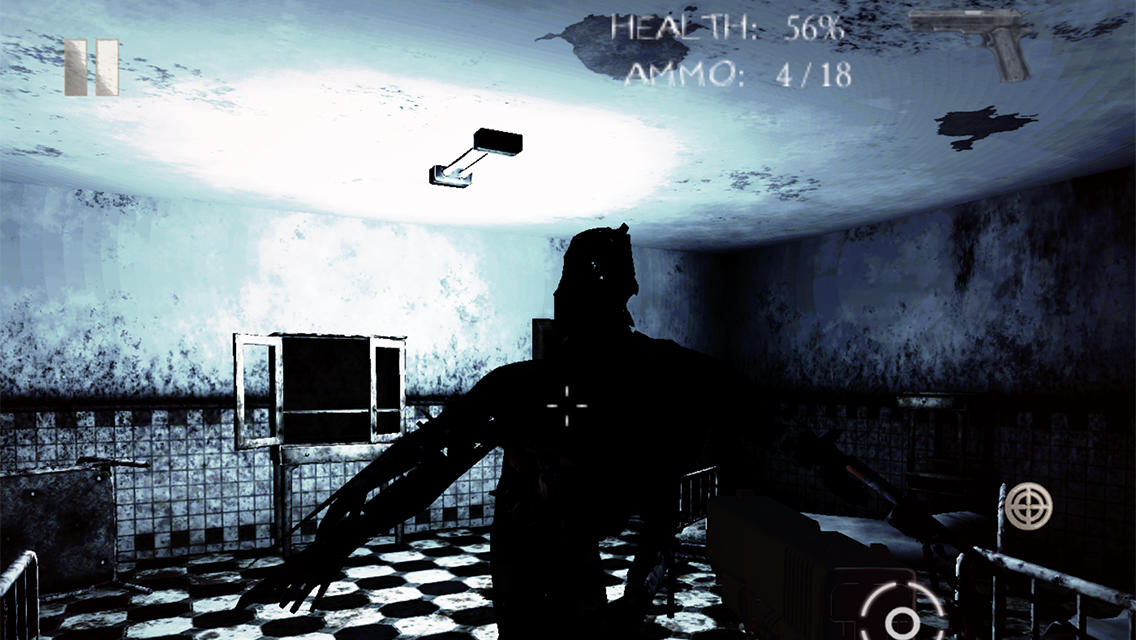 iTunes Description
Mental Hospital: Eastern Block II – is a sequel to the first part of the game that has already been played by a huge amount of gamers all over the world. It has driven mad dozens of people.

The Eastern Block II story starts with the death of the main character's friend who dies under mysterious circumstances. He had taken his camera and gone to a secluded mental hospital looking for sensation. The police investigated the case reluctantly without even trying to find David's camera. And the camera could certainly give hints as to what had happened in the sinister hospital. And now you have decided to do what you can to find this fateful camera so that David's death did not go unpunished. An incredibly powerful and creepy atmosphere will hold you in suspense so that you will not have a moment's rest. Only nerves of steel and swift reflexes will help you to get out of the hospital.
Forum Thread: Mental Hospital: Eastern Bloc II
---
NinJump Smash
iTunes Description
Smash your way to a new high score in this deceptively simple, endlessly fun follow up to the mega-hit NinJump game franchise, which is enjoyed by millions of fans around the world. In NinJump Smash, our fearless NinJump hero is out of shape and has put on a few pounds. He's in training to shed the extra weight and regain his athletic, ninja master abilities. Your goal is to run as far as you can through the ninja training dojo by busting wooden walls blocking your path. The controls are dead simple. Just tap to smash! But, tap too late and your ninja will face plant into the wall. Tap too early and your chubby ninja falls flat. You'll need to time each smash just right. How far can you get?
Forum Thread: NinJump Smash – (by Backflip Studios)
---
Pants!
iTunes Description
Pants! is an epic game about dressing naked dudes falling out of the sky before they hit the pavement. Seriously.

Drag the clotheslines to dress falling guys with shirts, pants and socks. Get bonus points by creating outfits of all the same color. Failing to get any piece of clothing results in death by pavement. Good luck.
Forum Thread: Pants! (By Thruster)
---
Pixel Press
iTunes Description
Pixel Press Floors is changing the way we experience mobile games by letting anyone be the creator, publisher and player of their own video game. With our creator platform, you can literally draw your own video game – no coding required.

Imagine playing games from around the world that all began from just an idea on paper!

By recognizing the shapes ("glyphs") you draw on paper or in the app using our "Draw-in-App" tools, we instantly turn your level blueprint into a game that can be tested, designed, played – and most importantly, published to the "Arcade" where others can enjoy your level and you can track how many times it's played.
Forum Thread: Pixel Press Floors (by Pixel Press Technology)
---
Plax
iTunes Description
Experience the ULTIMATE & EXTREMELY ADDICTIVE endless score-attack game available exclusively on the AppStore, PLAX.

Test your reflexes and your patience in this wonderfully crafted game, in which you are tasked to survive as long as possible and become the Master Plax of the Universe! DO YOU think you have what it takes to be the best?!?
Forum Thread: Plax – (by Raphael Blanchet)
---
Protect Teddy
iTunes Description
In a land far away there is a magical place called Teddy Kingdom. In this place, every young Teddy is protected and trained by a knight. Before they are ready, the Teddy King prohibits all young Teddies from venturing outside. But Young Teddy longs for adventures escaped Teddy Kingdom. As his knight, it is your duty to protect Teddy at all costs!
Forum Thread: Protect Teddy (by Dilectus Games)
---
PSI – Submarine Combat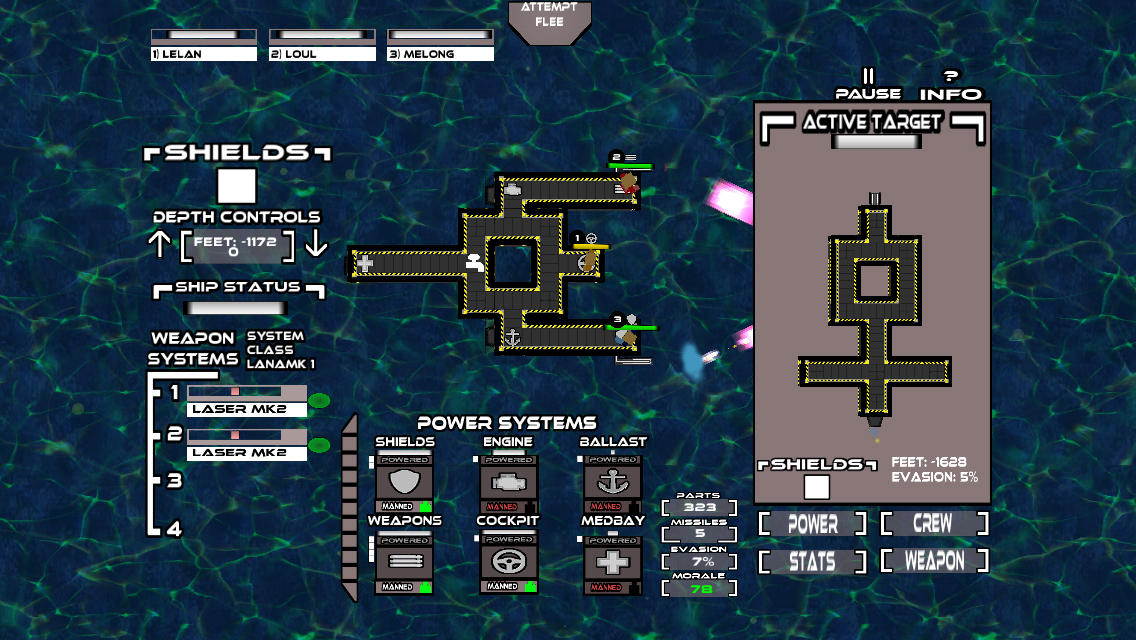 iTunes Description
PSI is a love letter to FTL, featuring intense submarine combat.

PSI puts you in command of an elite crew as you battle fires and pump floods as you face off against a long forgotten foe.

Featuring hundreds of dialogs, customizable submarines, advanced AI and intense action, PSI is a game built for maximum replayability.

What are you waiting for? The ocean calls.
Forum Thread: PSI – Submarine Combat (by Anthony Mangione)
---
Shadow Fight 2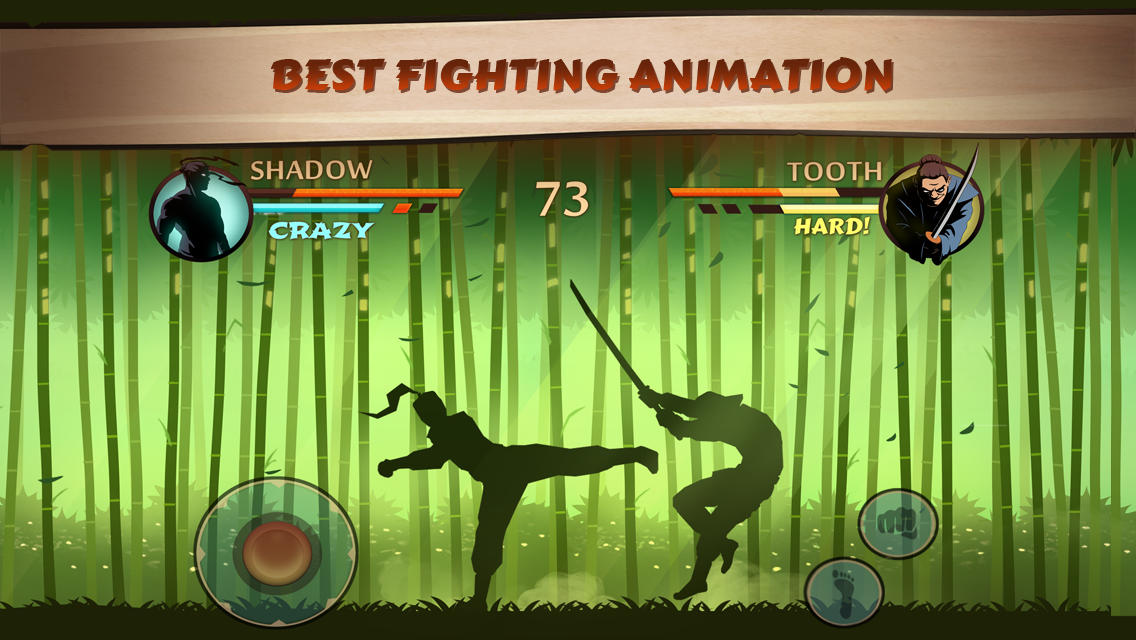 iTunes Description
The sequel to the famous Facebook smash hit with 40 million users!

From the creators of Vector: Shadow Fight 2 is a nail-biting mix of RPG and classical Fighting. This game lets you equip your character with countless lethal weapons and rare armor sets, and features dozens of lifelike-animated Martial Arts techniques! Crush your enemies, humiliate demon bosses, and be the one to close the Gate of Shadows. Do you have what it takes to kick, punch, jump, and slash your way to victory? There's only one way to find out…
Forum Thread: Shadow Fight 2 (by Nekki)
---
SpellPix
iTunes Description
NEW from the designer of PathPix: SPELLPIX, an original word puzzle game. Draw bright, bold lines of color as you make word paths connecting letters in the grid. All the words begin and end on circled letters with matching colors. Your job is simple – just find the letters that go in between.

Finish solving to see the miniature picture that you have created. As an extra reward you get a quip or quote related in some way to the picture. Witty or wise, it will give you a little something to think about as you go on to the next puzzle.
Forum Thread: SpellPix (by Kris Pixton)
---
Stickman Basketball
iTunes Description
Experience pure basketball fun with fast paced gameplay, an astonishing atmosphere, stunning smooth animations, simple controls, insane action and tons of replay value. Choose your favorite team and rank up while playing various seasons, cups and events in spectacular arenas or simply dominate in street basketball. Decide whether you want full control over your players with manual running and shoot timing or use the automatic running mode where you have control over precise pass timing and watch your players performing spectacular unbelievable dunks . Choose from 31 different skilled teams and lead them to glory!
Forum Thread: Stickman Basketball (by Djinnworks)
---
Superfrog HD
iTunes Description
In 1993 the world witnessed the birth of a new type of super hero. Now, twenty years later, Superfrog is back!

In the greatest traditions of fairy tales our story sees a handsome prince turned into a slimy frog by an evil and jealous witch… who, in turn, kidnaps the prince's bride to be and heads for the hills. Our little green friend happens upon a mystery potion (wow, how lucky was that?). Chugging on the vial, the frog prince is bestowed with amazing powers.

Determined to defeat the witch our hero sets out on an adventure that, with your help, will lead him to his true love.
You must explore and traverse 24 finely crafted levels and additional boss levels across 6 differently-themed worlds. The goal of each level is to collect a set number of coins, and then reach the exit. The ultimate aim, as ever, is to save the day, beat the witch and get the girl.

The game is an updated version of the classic side-scrolling, 2D platformer. Superfrog HD has been re-imagined with enhanced high definition cartoon style graphics. Gameplay has been made fairer, but for those who like a challenge the original maps are in there to unlock as well!
Forum Thread: Superfrog HD (by Team17 Software)
---
Swoc: of Swords and Blocks
iTunes Description
Become a Warrior, Mage, Druid, Paladin or one of the secret characters to experience a new take on Match-3 and Puzzle-RPG mash up!

You are not only playing with the board of tiles, you are exploring the board itself! Every time you match 3 identical items, all the characters on the board might move and face each other.
Every fighter will get power boosts or downgrades according to the items you match: the game is under your control!

Every character and every boss has a unique ability that will bend the rules of the match-3 games you all know. Some bosses might even trick you and play instead of you!

Play gently on the same device, one after the other or fall to the finger berserk swiping. Simultaneous swipes handled. Ideal game to challenge your more casual friends, because it looks as simple as any match-3 game they know…
Forum Thread: Swoc: of Swords and Blocks (by Baptiste Villain)
---
Talisman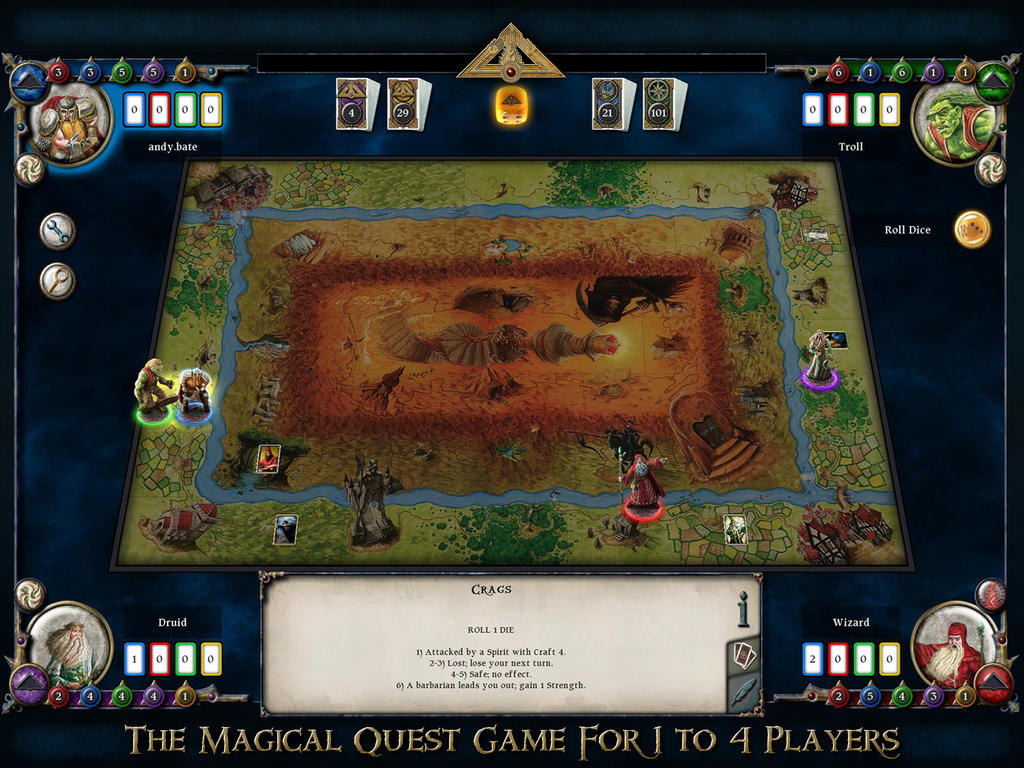 iTunes Description
Talisman: Digital Edition, the classic fantasy adventure board game for 1-4 players. This officially licensed version of the Games Workshop game uses the 4th Revised Edition rules. In Talisman, you embark on a perilous quest for the ultimate treasure, the Crown of Command. Choose from 14 characters such as the Warrior, Assassin, Thief or Wizard and race your opponents through a perilous realm. Each character is unique in their strengths, weaknesses and special powers. To win the game, you must journey to the heart of the land to find the Crown of Command, and then use its ancient magic to cast a mighty spell to subdue all your rivals. Only by gradually building up your adventurer's powers, gathering valuable allies, and winning potent magical items will you stand a chance of surviving the ultimate test that lies beyond the Portal of Power.
Forum Thread: Talisman (by Nomad Games)
---
Zombie Gunship Arcade
iTunes Description
The original Zombie Gunship® is one of the most popular games on the App Store. We received many awards from many people, and it even hit #1 grossing in the charts.

Unfortunately, this April 1st… Limbic lost all the original code and artwork for Zombie Gunship® due to an incident with a soft-serve ice cream machine, mail-order nightvision goggles and Mike the intern. Most of the engineering team is still outside crying while rocking back and forth.

So, Zombie Gunship Arcade is basically the best we could do to get things back up and running. We probably should have known that floppy-disk backups weren't the way to go…

So get out your tokens and get ready for some classic style arcade fun. And here's your warning; this game is hard, just like all the old ones used to be.
Forum Thread: Zombie Gunship Arcade (by Limbic Software)