It was a big deal when classic BioWare RPG Star Wars: Knights of the Old Republic ($9.99) launched for the iPad in May of last year, but being an iPad-only title meant that those who didn't own an iPad were left out in the cold. Aspyr Media, who handled the iOS port of KOTOR, were barraged with requests for iPhone support, and this past December, they granted gamers their wish with a Universal update to the game. Of course, if you give a mouse a cookie, he'll want a glass of milk. So now that the game was Universal and able to be played across different devices, now people were clamoring for iCloud save syncing, so they could continue their progress on all their devices. Well, Aspyr delivers once again with today's update which brings iCloud save syncing to Knights of the Old Republic.
That's not all though, as the game now supports all available MFi iOS 7 controllers, both the standard and extended styles, as well as text translations for new languages, which include German, Spanish, Italian and French. Here's a shot of Star Wars: Knights of the Old Republic being played on a Moga Ace Power iOS 7 controller.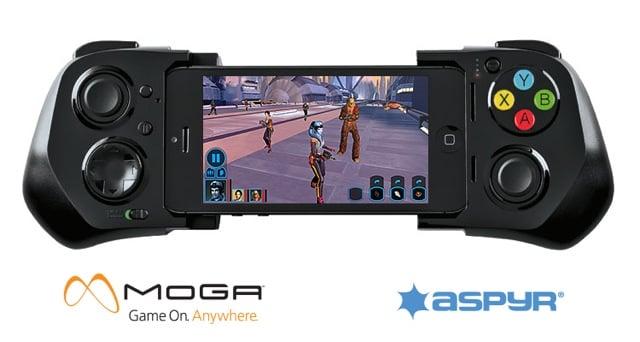 If you're new to the Knights of the Old Republic series, check out our full review of the iOS port, as our mobile devices are a fine way to experience the game for the first time. If you were already a fan of KOTOR from back in the day, well, you likely already own it on iOS, but just in case the game is currently on sale for $4.99 to celebrate the new update. So newbies and veterans who don't yet own this classic don't have much of an excuse not to grab it now.