It's that time of the week again when a bunch of new iOS games hit the App Store. There is a tremendous amount of games this week, but the "big dog" of the bunch is without a doubt the arrival of Square Enix's Final Fantasy VI. But, I implore you to give some of the rest of the lineup some serious consideration. Games like Cloudbreakers, Spell Quest, Toast Time and Toad Rider are all little bundles of fun that shouldn't slip under the radar. Plus there's Eliss Infinity and Galcon Legends, follow-ups to two of the App Store's early classics. It's a good week to be an iOS gamer.
Avoid – Sensory Overload
iTunes Description
Avoid is a frenetic, fast and challenging arcade runner with an eye catching graphical style. It offers an addictive arcade gameplay in the spirit of old coin games. Your ship mission is to survive as long as possible dodging obstacles and enemies with the help of various power ups. Select your game style with endless runner mode or a story mode in which you have to complete levels of different difficulty, from easy to extreme. Post your high score into the leaderboards and try to reach the best Avoid players on earth.
Forum Thread: Avoid – Sensory Overload (by NuOxygen) [Universal]
---
Battlefields Civil War
iTunes Description
Take the side of the Union Army or the Confederate Army during the American Civil War (1861-1865) in this iPad turn-based strategy board game. 'Battlefields Civil War' features six historic battles on six huge maps, each offering unique strategic challenges.
Forum Thread: Battlefields Civil War (by The Bitstreamers) [iPad]
---
Broken Sword 5 – The Serpent's Curse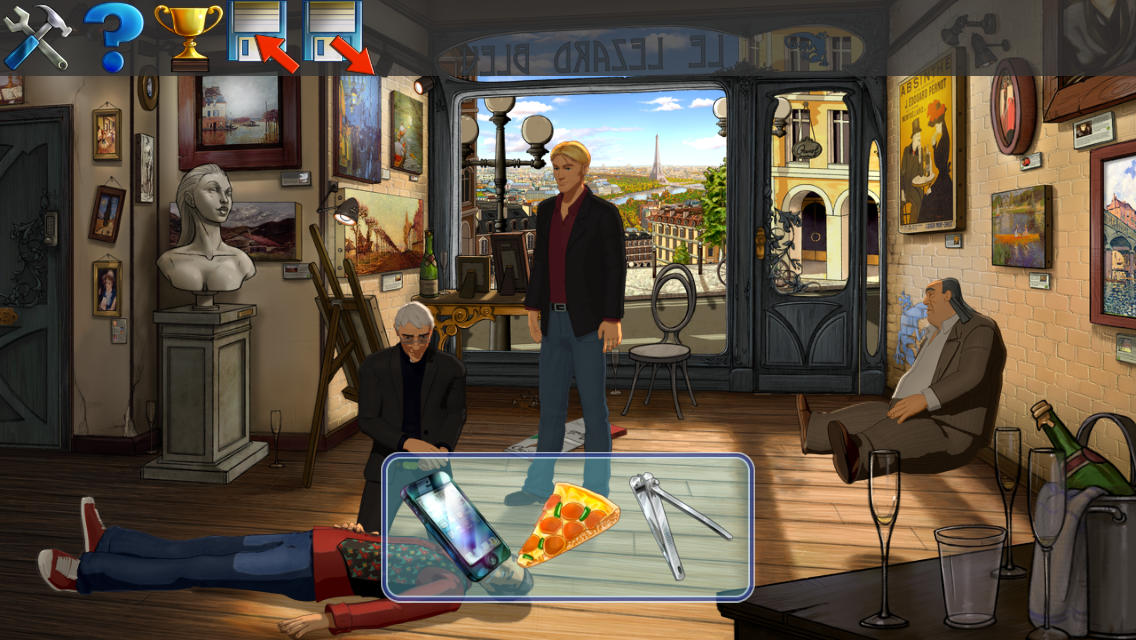 iTunes Description
Shots ring out from a gallery… a robbery… a murder… and the beginning of another epic, original Broken Sword adventure.

From multi-award winning Revolution comes the latest mystery in this much loved adventure-puzzle series. Playing as intrepid American George Stobbart and sassy French journalist Nico Collard, you find yourself on the trail of a stolen painting – and a murderous conspiracy. A conspiracy whose roots lie in mysteries older than the written word…

Armed only with logic, integrity and a wry sense of humor – can George and Nico save mankind from disaster? Can you solve the secret of the Serpent's Curse? A curse some say was forged by the Devil himself…
Forum Thread: Broken Sword 5 – the Serpent's Curse – by Revolution
---
Cloudbreakers
iTunes Description
Climb to the top of the Mountain in this original endless-runner-like game that's actually not endless at all! Collect all fellow heroes and help them return to their homeland.
Forum Thread: Cloudbreakers (by Jan Tomik)[Universal]
---
Diamond Fox
iTunes Description
Diamond Fox is an addictive and unique puzzle game. Find your way through countless obstacles and lead the pack of diamond foxes to their reward.

Swiping the screen moves all Foxes at the same time. You can swipe LEFT, RIGHT, and DOWN, but not UP!

Can you unlock all diamonds without getting stuck?
Forum Thread: Diamond Fox (by Pablo Senabre Blanes)
---
Dungeon Highway
iTunes Description
Dungeon Highway drops you into a delightfully stylized fantasy world filled to the brim with dastardly monsters. Heart-pounding action, nostalgic graphics and an enchanting chiptune soundtrack bring a new milestone to the genre of endless arcade racing. Runner fans will enjoy clearing paths with attacks and powerups. Multiple game modes, including a daily challenge add even more variety to this deep, replayable experience.
Forum Thread: Dungeon Highway (by Substantial Inc.) [Universal]
---
Eliss Infinity
iTunes Description
Use your fingers to control all the planets, fuse planets together until they become giant, or split them into halves until they become tiny, you're in charge of this reactive universe. Just don't let different colors touch!

Eliss is an award winning and critically praised game, with innovative multitouch gameplay, a stylish and fluid procedural design, dynamic sounds, and a superb soundtrack. It's a fast-paced puzzle/action game that will push your limits as a player.
Forum Thread: Eliss Infinity (By Steph Thirion) [Universal]
---
Excalibur
iTunes Description
Play as the young Arthur on a quest to save the princess, and fight hordes of monsters using the legendary sword Excalibur.
Forum Thread: Excalibur (by Ketchapp)
---
Final Fantasy VI
iTunes Description
FINAL FANTASY VI first debuted in 1994 as the sixth installment in the iconic FINAL FANTASY series. Innovations included the ability to play all the main characters as the game's protagonist, and to this day, its epic story intertwining each of their fates is still highly rated and wildly popular. The characters' dramatic performances are also highly rated, including the catastrophe occurring midway through, which delivers a particular emotional jolt to players.

With plenty of abilities available and the magicite system for controlling spells/summoning, players can develop their characters any way they want. This was also the first FINAL FANTASY game to include the Ultima Weapon, the most powerful sword of all and a recurring item in subsequent titles within the series.
Forum Thread: FINAL FANTASY VI – (by SQUARE ENIX INC) [Universal]
---
Fossil Swap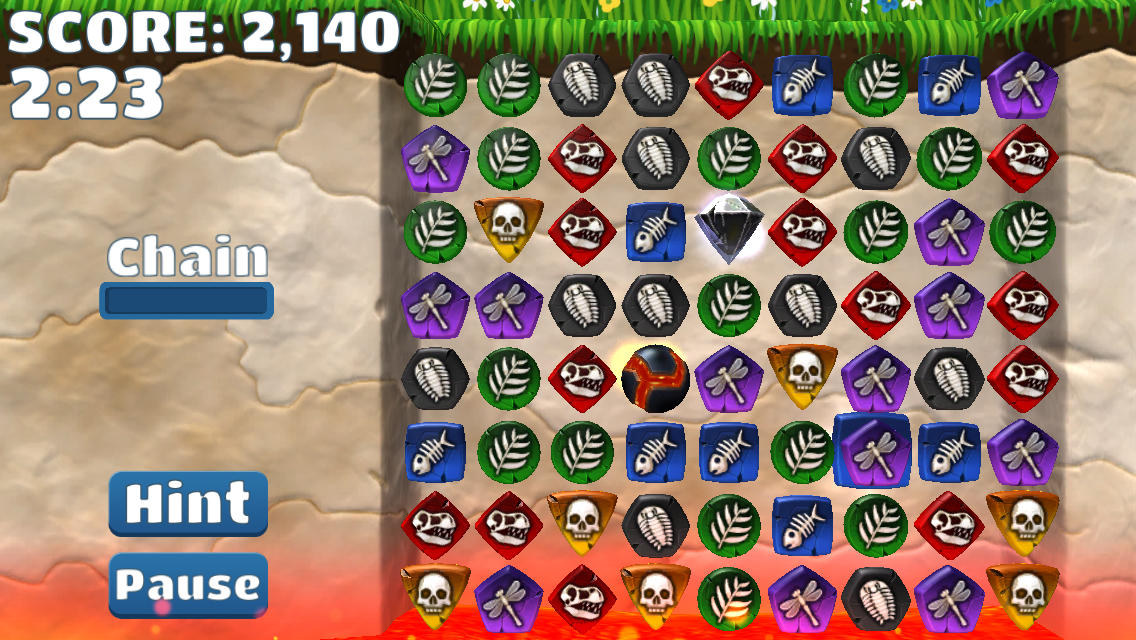 iTunes Description
Description
Fossil Swap is a match three game that requires quick-thinking and careful planning.
Features:
• Beautiful 3D graphics.
• Ranked mode – submit your score on the Game Center leaderboard.
• Practice mode – no time limit. Play at your own pace.
• No grinding or buying your way to the top. Only the best players can reach the top of the leaderboard, not those who put the most money or time into the game.
Try Fossil Swap for free and learn how to play at FossilSwap.com
Forum Thread: Fossil Swap (By Io Normal Pty Ltd)[Universal+Lite]
---
Galcon Legends
iTunes Description
Join Buck the bill collector as he unites the galaxy against the forces of evil. Send swarms of ships to defeat enemy planets and conquer the universe!

Galcon Legends teaches the basic strategies of Galcon through a single-player campaign. The 23 missions can be easily defeated at the lower ranks, but mastery at the Grand Admiral rank will take much more effort!
Forum Thread: Galcon Legends (By Hassey Enterprises, Inc.) [Universal]
---
Kahuna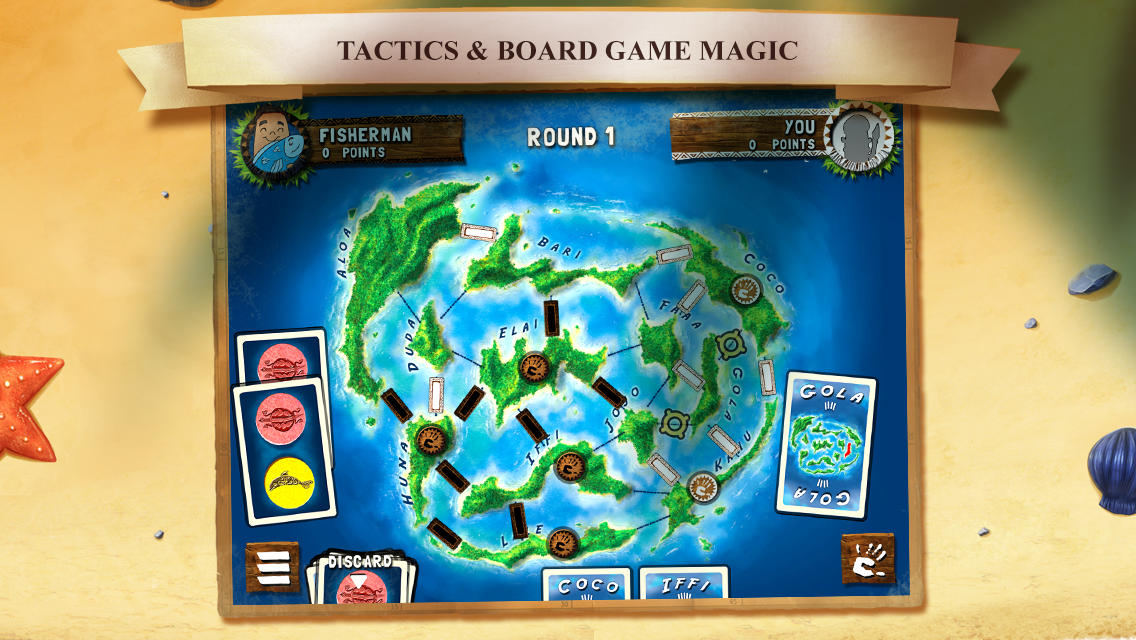 iTunes Description
In Kahuna, rivals use cards strategically to place bridges between these islands or remove opponent's bridges. As soon as the majority of bridges are conquered around an island, Kahuna marker stones can be placed on that island. The player who holds the most Kahuna stones after a round will score points. It's all about clever placement of limited cards for maximum impact. Kahuna is easy to learn and a challenge to truly master!
Forum Thread: Kahuna (by USM) [Universal]
---
Line of Defense Tactics
iTunes Description
Command a team of four Galactic Command (GALCOM) marines in highly classified missions across space stations, starships and vast planetary battlefields.

Based on the world of the Line Of Defense MMO, train your team, upgrade their stats, weapons, inventory and abilities to become the ultimate fighting force.
Forum Thread: Line of Defense Tactics (by 3000AD, Inc)[Universal]
---
Merchants of the Sky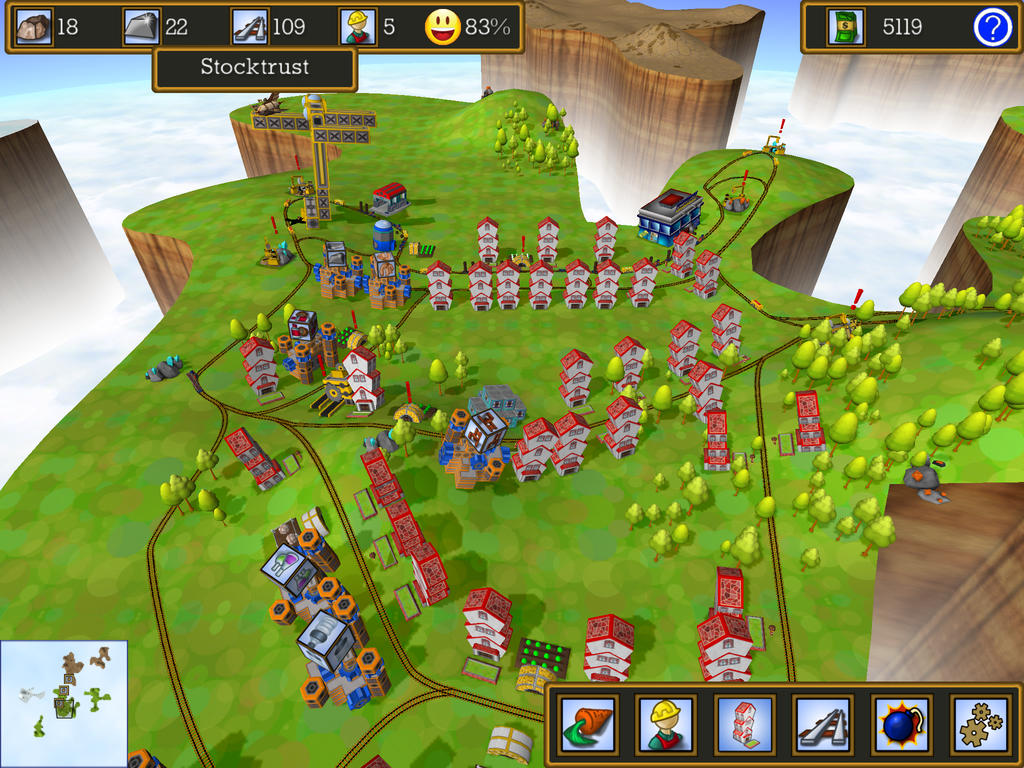 iTunes Description
Merchants of the Sky is a colony-building game, set in a fantasy world of floating islands where airships and trains are the dominant modes of transportation. Build your very own colonies, set up successful trade routes and keep your citizens happy; all within a true supply and demand economic system. Merchants is a combination of colony-building, exploration and economic management. Set-up your rail networks, extract resources, build supply chains to create new products, research new technologies, explore new islands, found new colonies and watch your empire grow.
Forum Thread: Merchants of the Sky (by Stir Fry Games) [iPad]
---
Modern Command
iTunes Description
Build a world-class global protective force and eliminate the terrorist threat in Modern Command!

Battle against the armies of tyrannous villains and conquer glorious 3D battlefields throughout the world. Research new defenses, deploy cunning strategies and put your mettle on the line as you lead the fight for global security.
Forum Thread: Modern Command – (by Chillingo Ltd) [Universal]
---
Naughty Kitties
iTunes Description
Tired of traditional tower defense and endless running game? What about mingling them together? Naughty Kitties is the best answer, developed by Coconut Island, creators of Finger Balance and One Tap Hero. The Cat's Planet is in danger!! Aliens attacked the homeland of cats. All the adults on the planet lie in the dust. Only some kittens are trying to flee away with spaceship. Your mission is to lead them to fight and break through the encirclement of the enemies and. Survival is the only way to protect the last hope of the Cat's Planet!
Forum Thread: Naughty Kitties (by Coconut Island Games) [Universal]
---
Patrick Kane's Winter Games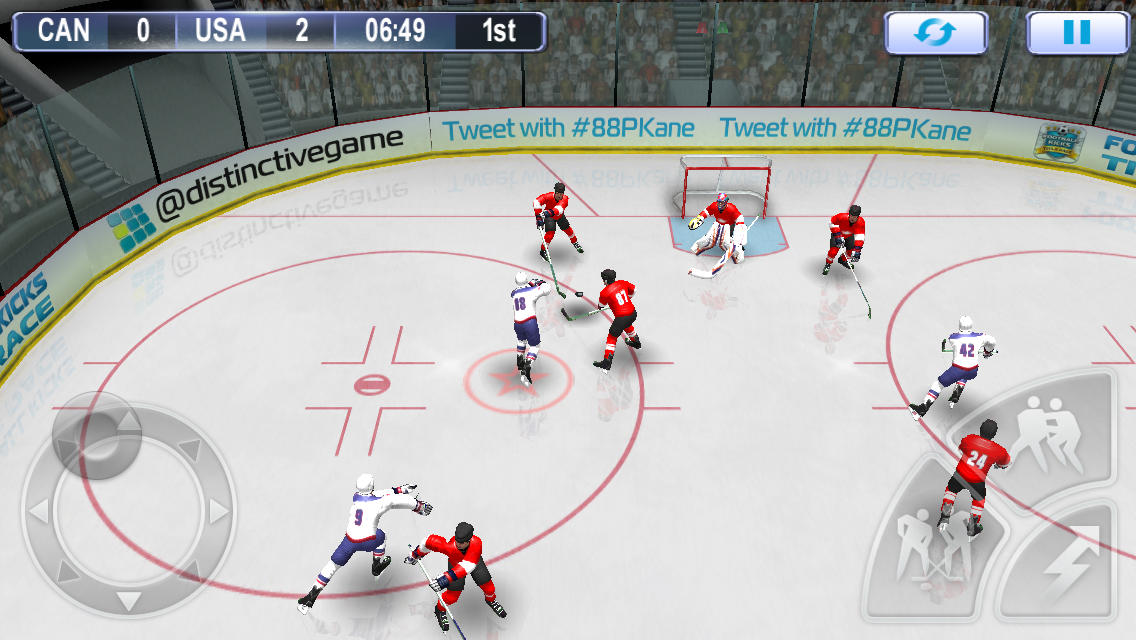 iTunes Description
Team USA hockey star Patrick Kane invites you to take a shot at glory in the greatest hockey event of the year – PATRICK KANE'S WINTER GAMES!

Dominate the ice across three net-busting game-modes; instant action FACE-OFF, exhilarating WINTER GAMES and the challenging RIVALS SERIES. Take on all of the internationally acclaimed national teams from around the World, with Patrick himself skating for Team USA. Perform faultless face-offs, slamming slap-shots and perfect poke-checks to bring down even the toughest of nations. Built with the innovative Phoenix™ technology, Patrick Kane's Winter Games features incredibly fluid controls and the highly detailed 3D visuals provide an electrifying backdrop to the most entertaining hockey simulation on iOS.
Forum Thread: Patrick Kane's Winter Games (by Distinctive Games) [Universal]
---
Piecemaker
iTunes Description
PIECEMAKER is a shooting game to intercept weapons of ten quirky hordes of enemy surging . Exhilaration to crush huge enemy and difficulty , exquisite tight and loose does not matter a simple screen , the skill of the player who symbolized to the limit the gameplay provides a sense experience new nostalgic .
Forum Thread: Piecemaker (by Hideki Matsui)
---
Platforms Unlimited
iTunes Description
Platforms Unlimited is a procedural, minimalistic, zen, madly hard one-button endless platformer! Uninventing the genre to extirpate its core. An arcade game like in the old times when simplicity, fun and challenge ruled.

This is a premium game, without IAP or ads.
Forum Thread: Platforms Unlimited (by XperimentalZ Games) [Universal]
---
The Quest – Elemental Asteroids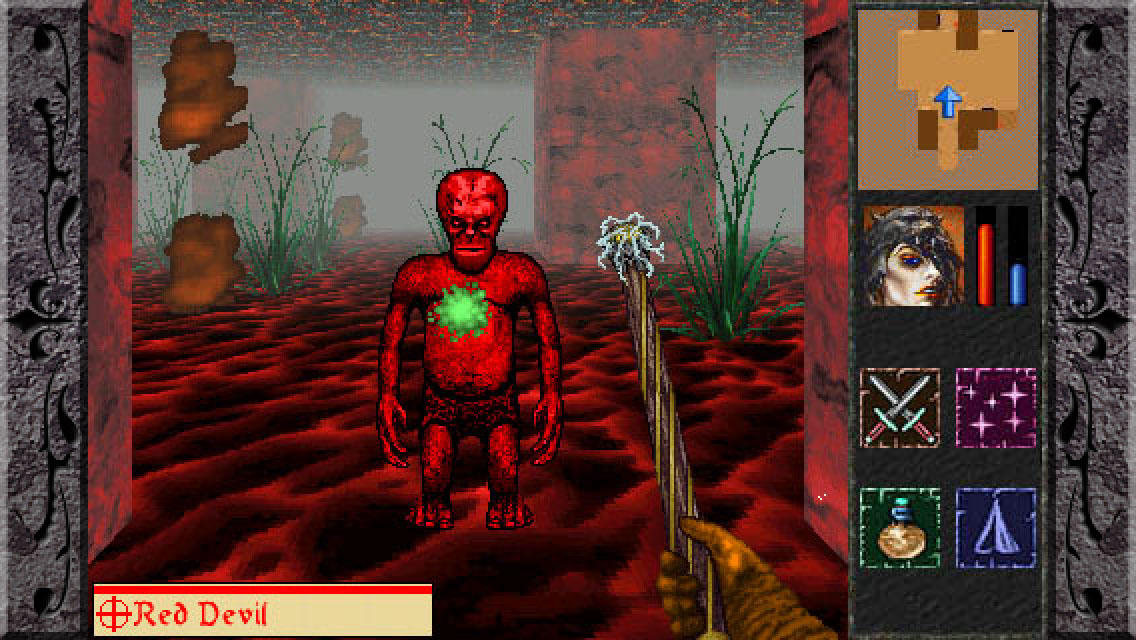 iTunes Description
The Quest – Elemental Asteroids is an expansion to The Quest, a beautifully hand-drawn, immersive and enchanting world full of exciting challenges. After enabling the expansion, you can continue to play The Quest with your existing character(s) to explore new areas and quests. However, if you don't have The Quest, you can also play the expansion as a standalone game.
Forum Thread: The Quest – Elemental Asteroids (by Chillingo)
---
Rogue Resources
iTunes Description
Rogue-like meets RTS! Rogue Resources is a minimalistic combination of rogue-like and real-time-strategy gameplay genres.

• Random level generation and permanent death
• Collect and manage various resource types
• Unlock upgrades that carry over to future play sessions
• Expand your base and defeat the enemy
• 45-minutes of downtempo / chiptune soundtrack
• A difficulty level that taunts true fans of both genres
Forum Thread: Rogue Resources (by Tyler Ruetz) [Universal]
---
RPG Journey to Kreisia
iTunes Description
Kreisia―A world of three races coexisting under the banner of single kingdom. Yet notwithstanding these different people being ruled over by a lone institution of government, life, for the most part, has continued on peacefully despite certain racial undertones pervading the hearts of some in society…

Still unforgotten, is the re-emerging calamity precipitated by the Overlord with each new decade… Resurrecting once every ten years, this personification of evil sets about to envelop the world in chaos and destruction. But what of the Savior and his party who defeated this great destroyer only ten years earlier? And does Kreisia's newest Savior, an unsuspecting youth, really have what it takes to stand in the face of all odds to save the world?!
Forum Thread: RPG Journey to Kreisia (by Kotobuki Solution/KEMCO) [Universal]
---
Solar Swarm
iTunes Description
The year is 2140 and the galaxy's only energy source is under attack from an invading alien swarm. Defensive satellites have been launched across the galaxy to defend against the enemy and save the solar planet from extinction. You are the last line of defence and the galaxy's future is in your hands.

Keep your energy up and use your vast range of powerful and explosive weapons to keep the enemies at bay for as long as possible.
Forum Thread: Solar Swarm (By Freshly Baked Games)[Universal]
---
Spell Quest: Grimm's Journey
iTunes Description
Spell words to fight your way through more than 30 stages in this addictive word game. Join Grimm on his amazing adventure through a world full of monsters and treasure!

Spell Quest: Grimm's Journey features:
● Easy to pick up and play
● Upgrades, books, potions and special items to help you on your journey
● Leaderboards – compete with your friends
● 20+ monsters to fight
● Boss monsters with unique abilities
● More than 45 quests to complete
● Over 30 stages
● 42 Game Center achievements
Forum Thread: Spell Quest: Grimm's Journey (by Mark Smith) [Universal]
---
Toad Rider
iTunes Description
nspired by the classic Battletoads game, loved by millions over the world! Toad Rider is a super intense and challenging game for people with split-second reflexes, machine-like focus, and nerves made of steel.

Help Zody the Toad escape from a group of evil scientists in a far away lab. Your escape journey will be action-packed:

• Move swiftly with your hoverbike around tricky obstacles.
• Take down evil scientists before they shoot you!
• Dash into glass walls to survive.
• Perform cool, amazing stunts.
• Experience awesome dynamic lanes.
• Pimp your jet. Pimp your toad.
• Compete with your friends on Game Center and Facebook!
Forum Thread: Toad Rider (inspired by Battletoads) – by Elektron Games [Universal]
---
Toast Time
iTunes Description
Assume the role of TERRY (toast-ejecting recoil & reload system), a humble and solitary toaster with an uncontrollable love for English breakfasts, hats and scheduling.

Tap to launch toast, crumpets and magnitudes of other breakfast paraphernalia at the beasties. Bounce around and crush them with your hot metallic mass. Tip over bins, and use the environments to your advantage. Drink a little coffee and go a little crazy. Do everything it takes to defend toast time – you are Monday morning's final hope. Have your toast and eat it.
Forum Thread: Toast Time (by Force of Habit) [Universal]