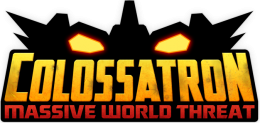 We've been excited for Halfbrick's upcoming Colossatron: Massive World Threat since its first unveiling at PAX Australia this past July, and today the studio has finally announced an official launch date of December 19th for the game. If you've been following along in recent months, you'll remember that Halfbrick has been slowly teasing various details about Colossatron through humorous animated trailers. One from back in early November explained how "Powercores" work in the game, and later in the month another teaser explained the fancy Prototype weapons you'll come across in Colossatron. Last week, they released yet another teaser trailer, this time covering the various locations the Colossatron will destroy in the game.
Finally, Halfbrick's latest teaser is the one which denotes the December 19th release date, though it doesn't show any actual new gameplay footage or anything. Still, I've embedded it below for your own viewing pleasure.
I'm really excited to get my hands on the final version of Colossatron next week, and I've actually been enjoying all these teaser videos a lot and am sort of sad to see them end. I think I might be General Moustache for Halloween next year. Hopefully there'll be plenty of those funny cutscenes in the game itself, but either way get ready for Colossatron: Massive World Threat to pave a path of destruction into the App Store next Thursday.