The vast majority of virtual or interactive pet games might offer a fun, regular distraction of caring for something without any real consequences if you forget to feed it or fail to keep it happy over a regular period of time but they lack a certain reality by their very nature. Most of these "pets" are just a collection of animated sprites designed to react to certain stimuli and choices over time. They don't move with any real fluidity to fulfill their obligations as true virtual pets.
That's why NaturalMotion should have gotten into the virtual pet business a long time ago. The release of their newest title Clumsy Ninja (Free) uses physics based movements to create a surprisingly lifelike and lovable character that you can train and grow into a high-flying, board chopping, back flipping ninja master.
The main character is more than just a rag doll that the player can throw around the screen under the guise of training him. It's an intuitive, fluidly moving character with a past and a plotline that the player must guide him through who can respond to its surroundings with smooth, physical movements. It makes him feel more like a living, breathing cartoon being than just a lifeless indicator of the game's management process. There are moments when flopping the character around the screen becomes an integral part of the gameplay but it still feels like it is moving and reacting to the falls the way a real person would presuming that they could survive being flung through the air and still stand on their own two feet free from any pain whatsoever.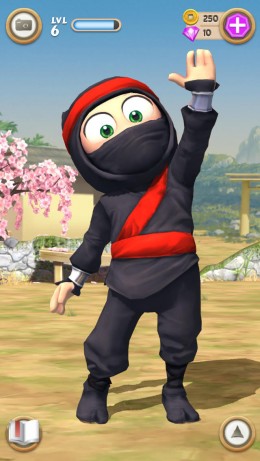 The game also gives you access to a bunch of objects and training tools to bring your Ninja up to speed and earn higher ranks in the form of Karate belts. Each object rewards the player with different power-ups and new moves as the Ninja levels up in his training regime. These objects range from simple toys that make it more fun to interact with the character such as balloons that can be tied to the Ninja and lift him off the ground to more interactive objects such as a trampoline that unlocks new flying moves or a hoop that you can throw the ninja through to toughen him up to achieve the next level.
Compared to other virtual pet games, there is less emphasis placed on maintaining your ninja's health stats and more on interacting with him to improve his abilities and moves. The training space exists in a 3D environment and the true beauty of the experience is watching the Ninja move and react to them as you move them around him. The most impressive part of the gameplay comes in the form of various punching bags that you hold up by the string and move around the Ninja as he learns to gauge his punches and kicks without falling over, which he will do less and less the more that you train him. He's not just hitting a single target in a confined space. He's moving in all directions to time his throws and it feels satisfying to see his punches achieve better timing and greater strength with each session.
Since it's a free game, it still has to follow the rules of free-to-play gaming so some may grow tired of eventually running out of coins or diamonds and having to do extra sessions if they aren't willing to pay for the privilege of skipping ahead. They are, however, spaced out better than most games of their ilk and don't completely derail the experience by adding unnecessary catches that interrupt the flow of the game and turn the term "free-to-play" into a total oxymoron. NaturalMotion has created something very impressive and they clearly want to show off their little Ninja and what he can do.