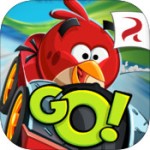 We first learned about the existence of Angry Birds Go! way back in June, and a follow-up teaser video released in August led us to believe that the game would be some sort of go-kart racer along the lines of the classic Mario Kart series. Well, the very next month, a bunch of leaked images of a toy line for Angry Birds Go! seemed to hint that the game would be more of a behind-the-back version of typical Angry Birds flinging-and-smashing, though with a large ski-jump style launcher rather than a slingshot. Well, as it turned out, an official gameplay trailer released last month put those thoughts to rest as Angry Birds Go! is indeed a true kart racer. We've known since then that the game would be launching December 11th, but today Rovio has decided to soft-launch the title starting with the New Zealand App Store.
Being that Angry Birds Go! is free, if you are one of the many people with access to an NZ App Store account then you can go ahead and download the game right now to check it out. I've just done so myself, and after playing around with it for a few minutes it seems like all the pieces are in place for a solid kart racing experience. There's extensive car upgrading and customizing, quite a few different tracks to play through, and the graphics are beautiful. What remains to be seen, as is the case with pretty much all free-to-play games, is how the IAP will affect the game long-term. That's exactly what these sort of soft-launches are for though, so we'll have to wait for the worldwide launch to see if any tweaks will come from this soft-launch period.
If you don't have access to an NZ App Store account, then kick back for a couple of weeks and check out what people are saying in our forums until the official worldwide release of Angry Birds Go! on December 11th.
New Zealand App Store Link: Angry Birds Go!, Free (Universal)