It's another Wednesday night, and another batch of new iOS releases worldwide and here in the US App Store. As always there is a great mix of game types so there should at least be a little something for everyone. Personally, I've had more silly fun with Fist of Awesome than I've had in some time, and I really can't wait to sit down properly and give Simogo's Device 6 all of my undivided attention. That new Batman: Arkham Origins game made a surprise showing, and Mdickie's ridiculous-in-an-awesome-way prison simulator Hard Time is definitely worth a look too. Be sure to peruse all the accompanying videos and forum links for all the information you need when deciding what to download tonight.
---
ARC Squadron: Redux
iTunes Description
An evil race known as the Guardians is taking over the universe, ravaging planets, and killing all peaceful life forms. You are the galaxy's only hope for salvation. As an elite pilot serving in the ARC Squadron, you are tasked to take on the Guardians in head-to-head combat and bring down their empire.

With simple one-touch controls, you can shoot, blast, and annihilate enemy forces to hunt down each of the nine Guardian lords and destroy them once and for all. The ultimate battle for the galaxy is nigh. Are you on board?
Forum Thread: ARC Squadron: Redux – (by Psyonix) [Universal]
---
Batman: Arkham Origins
iTunes Description
Prove your worth as Gotham's Dark Knight, facing off against a slew of deadly assassins and their thugs in the new mobile game, Batman Arkham Origins. Fight your way through Gotham City's most dangerous locales in this free to play brawler from NetherRealm Studios. Earn in-game currency and rewards to upgrade your Batman and become the most punishing crime fighter in the world, unlocking tons of unique Batsuits along the way. Connect the mobile game to the console version of Batman: Arkham Origins and unlock even more exclusive content that you can't get anywhere else.
Forum Thread: Batman: Arkham Origins (by Warner Bros.)[Universal]
---
CSR Classics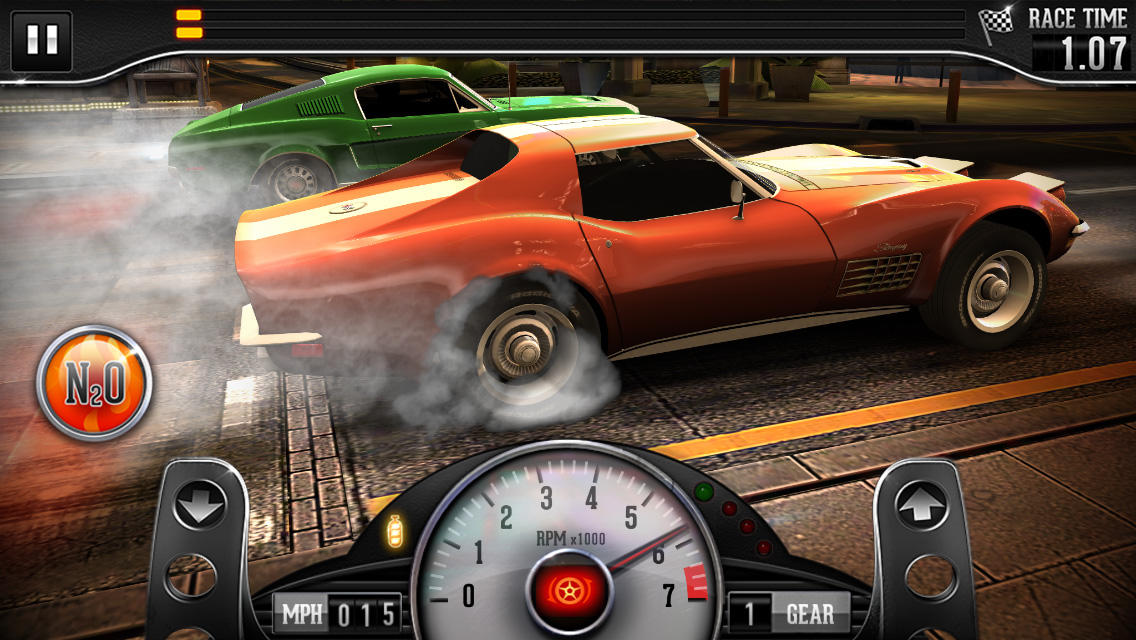 iTunes Description
A brand new game in the CSR series, CSR Classics sets the benchmark in graphics and gameplay. Get ready to race!
Take your pick from the finest automobiles ever produced, including classic models from Audi, BMW, Chevrolet, Ford, Lancia, Mercedes, MINI, Nissan, Plymouth, Pontiac, and Shelby.
Forum Thread: CSR Classics (By NaturalMotion) [Universal]
---
Device 6
iTunes Description
A surreal thriller in which the written word is your map, as well as your narrator. DEVICE 6 plays with the conventions of games and literature, entwines story with geography and blends puzzle and novella, to draw players into an intriguing mystery of technology and neuroscience. Anna wakes up in a castle on a remote island, with little recollection of how she got there. All she remembers is an unusually unpleasant doll. Why are there two identical castles on the island? Who is the mysterious man in the bowler hat? And above all, what is the purpose of the tests Anna is put through? Read, listen and peek into three-dimensional photographs to solve the bizarre mysteries of DEVICE 6.
Forum Thread: Device 6 – (by Simogo) [Universal]
---
Fist of Awesome
iTunes Description
Have you ever wanted to punch a bear IN THE MOUTH? When Tim Burr's family disappeared and his house spontaneously burst into flames he thought his day was as about bad as it could get. That's when his hand became self-aware and broke the horrific news that the world was now ruled by bears. Join Tim as he embarks on an epic battle across time and space, unravelling the bear-ridden damage to Earth's timeline. It's a bit like Quantum Leap but with more bears and lumberjacks. FIST OF AWESOME is a heartfelt love-letter to golden classics like Double Dragon, Streets of Rage and Final Fight. Prepare yourself for the most epic time-travelling-lumberjack-em-up OF ALL TIME!
Forum Thread: FIST OF AWESOME (by I FIGHT BEARS) [Universal]
---
Hard Time
iTunes Description
Wrestling Revolution's unique brand of violence finally ends up where it belongs – behind bars! Create your own inmate and attempt to survive in a prison where every sentence is a "death" sentence. Rub shoulders with up to 100 fellow inmates in a sprawling facility of 12 unique areas, each filled with fully interactive furniture and props. Plus a life beyond the gates populated by real civilians, with wardens enforcing dozens of different laws to keep you as far away from it as possible. "Reputation" is the only currency that matters in this world. Having one keeps you alive, but avoiding one keeps you sane. Which side of the fence will you fall on?
Forum Thread: Hard Time (Prison Sim) – (by MDickie)
---
Indigo Lake
iTunes Description
Indigo Lake is an intelligent psychological horror game that mixes first person combat, driving and puzzle solving. Explore an open world, translate ancient American Indian pictograms and dispel spirits with unique rituals.
Forum Thread: Indigo Lake – (by 3 Cubes Research Limited) [Universal]
---
Machinarium Pocket Edition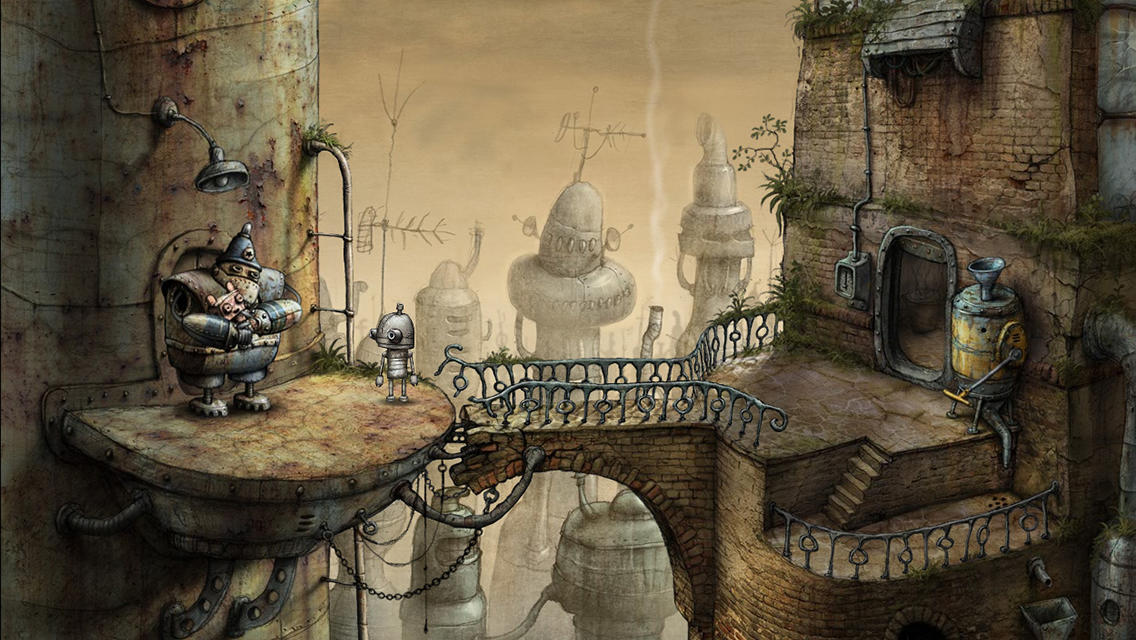 iTunes Description
An award-winning adventure game by the makers of Samorost and Botanicula. Finally available also for iPhones with pinch-to-zoom feature, achievements and more.
Forum Thread: Machinarium Pocket Edition – (by Amanita Design)
---
Mega Dead Pixel
iTunes Description
When pixels collide, it's game over! Tap to steer your plucky pixel left and right as it descends through a minefield of dangerous retro shapes to build up your meter and transform into the almighty Mega Pixel. Master each descent to claim your place as the number one pixel! Grab coins to spend on game-changing headgear, bonuses, bombs and guns that'll blast the pixels in your way, and much more. What mysteries lurk behind the Pixelwalls? Chip away at the walls with every pixel you paint. Keep playing to earn cool rewards and see what secrets will be revealed.
Forum Thread: Mega Dead Pixel – (by Chillingo Ltd) [Universal]
---
Mimpi
iTunes Description
Explore strange new worlds and unique adventures in Mimpi – a fantastic new adventure, puzzle, and platformer game.
The game is like a psychadelic illustration come alive! Mimpi the dog is searching for his master in eight diverse worlds. The environment is seldom repetitive, the puzzles are always new. The story is told without words by the game world itself. The game can be played by anyone, kids, adults, hipsters, crypto terrestrials… 🙂
Forum Thread: Mimpi – (by Crescent Moon Games) [Universal]
---
Paint it Back
iTunes Description
The art has disappeared from the gallery! Can you paint it back?
Recreate lost paintings by using your mind!
Use logic as your paintbrush to solve each painting's unique puzzle!
Forum Thread: Paint it Back – Picross with a Purpose [Universal]
---
Pixel Karts GP
iTunes Description
In Pixel Karts GP you get the seat of a go-kart racer! You compete in fast paced races, trying to beat some really tough opponents and mastering frenetic driving mechanics. This non-stop action takes place in a retro art-style world full of challenging circuits!
Forum Thread: Pixel Karts GP – (by Flying Cartridge) [Universal]
---
Pocket Titans
iTunes Description
Use your wits and cunning to defeat the invading Orc Horde in this fun new RPG puzzle adventure. Slide your Titans into position to unleash their devastating attacks on the invaders, but beware, these fearsome foes do fight back! Join our heroes on an exciting journey through a land of Orcs and Skeletons, defeating evil bosses and rescuing villagers. Make powerful new allies and do battle with your Game Center friends in this epic adventure with unique puzzle style gameplay. Can you defeat the evil Orc army?
Forum Thread: Pocket Titans (by Kumotion Ltd) [Universal]
---
Rabbids Big Bang
iTunes Description
Forget the Milky Way! This is the Rabbids Way!
Rabbids Big Bang is the first Rabbids physic-based game on mobile devices that lets you pilot a Rabbid in space with the tip of your finger
Forum Thread: Rabbids Big Bang – (by Ubisoft) [Universal]
---
Regular Show: Ghost Toasters
iTunes Description
Save the park from a ghostly invasion in this REGULAR SHOW PLATFORM SHOOTER! Gear up with the latest high-tech weaponry and toast some killer ghosts!
Forum Thread: Regular Show: Ghost Toasters (by Cartoon Network & Grumpyface Studios)
---
Runaway: The Dream Of The Turtle Part 1
iTunes Description
Follow Brian and Gina in the second part of the Runaway saga. Spending some holidays in the tropics of Hawaii, our famous couple of lovers is separated over the Tiki falls during a plane ride gone awry. Gina still missing, Brian will have to move heaven and earth to find his disappeared better half. Discover characters, each more atypical than the next, travel all around the world and solve hundreds of puzzles to help our adventurer in his quest. A thrilling adventure packed with humor and twists that you will not forget.
Forum Thread: Runaway: The Dream Of The Turtle Part 1 (by Bulkypix) [Universal]