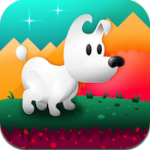 The folks over at Crescent Moon Games have been busy lately publishing a variety of different games. One of the titles I've been most impressed with is Mimpi, a puzzle/platforming game from developer Silicon Jelly with an adorable canine for a hero. Recently we had an opportunity to check out a final pre-release build and, based on what we've seen, it should be on everyone's radar.
Telling the tale of a dog named Mimpi searching for his master, Mimpi's story (at least at the onset) is told with a simple cutscene which segways excellently into the first level. Other portions of the story are revealed via illustrations that are unlocked by collecting items scattered throughout the levels.
One of the things that instantly jumps out at me when I checked out Mimpi is the beautiful art style. Reminiscent of games such as Tiny Wings ($1.99), Mimpi reminds me of an illustrated storybook with a lot of attention to detail. I really enjoyed the colorful palette of the first world, and I'm curious to see how the art style changes in other regions.
Gameplay in Mimpi is where things get interesting. The platforming elements are simple, with 2D directional and jump moves. However, players can interact with the game's backdrop in order to change the environment, allowing you to progress to the next area. An early example is the ability to move clouds around in the background, creating platforms for Mimpi to jump across. Later puzzles look to involve a lot more pieces and force players to think outside the box.
Mimpi should be available on the App Store this next week. Meanwhile, feel free to add it to your TouchArcade (Free) Watch List for the latest on when it comes out.