Well it's another Wednesday night which means another bunch of new iOS game releases. It's actually kind of a light week in terms of your normal scheduled Thursday releases, but quite a few games released earlier in the week which actually kind of brings things up closer to the typical number of releases. At any rate, as is usual each week, there's a large number of different kinds of experiences on offer, so take advantage of the information and forum links below to find out everything you need to know before downloading.
Double Dynamo: A Matching & Rhythm Game
iTunes Description
Double Dynamo is a matching & rhythm game that trains your working memory, and helps you get better at handling distractions and turning challenges into action instead of stress. Play and awaken your senses!
Forum Thread: Double Dynamo (by Michael Plotz)[Universal]
---
Edge of the World
iTunes Description
Take turns launching your ships to the Edge of the World! Challenge your friends to a local or online game, and see who can score the most points and win! And best of all, it's free!
Forum Thread: Edge of the World – (by Central Core Studios, Inc.) [Universal]
---
Galaxoid
iTunes Description
Galaxoid is a fast paced retro space shooter based on arcade games of the 80's. It's all about high scores. 50 levels, 5 bosses and Game Center Scores!
Forum Thread: Galaxoid – A retro space shooter [Universal]
---
Get Gravel
iTunes Description
Get Gravel! from POLYGAMe d i g i t a l is the ultimate arcade rally racing experience for iPhone and iPad! Got the need? The need for speed? How about a quick burn around a tropical island in a high-powered, 4WD rally machine? Perhaps a bit of drifting through the sun-drenched countryside, or a blast through ice and snow in your classic rally-spec coupe? Love cars? Love speed? Love to get a bit sideways? We've got you covered, but just remember: Asphalt is for the weak. Get some steelies. GET GRAVEL!
Forum Thread: Get Gravel! Arcade Rally Racer OUT NOW
---
Gunner Z
iTunes Description
Take your fleet of customized "AC-HMV" armored assault trucks into a city overrun by an undead army! However, the enemies aren't merely mindless zombies; a powerful enemy military is using the engineered threat as a tool. Run by General Thacter, this twisted army utilizes undead soldiers and huge biological beasts as weapons alongside remotely operated mechanized units such as aerial drones, tracked RPG turrets, APCs, tanks, and more. The only force capable of stopping the undead army is YOU!
Forum Thread: Gunner Z (Universal app By Bitmonster)
---
Happy Hills 2: Bombs Away!
iTunes Description
Once again the home of the Happy Hills faces imminent danger!
Mount Majestic, the kind and gentle guardian of Euphoria, starts rumbling, bloating and belching out smoke – it seems a dark force is building up deep inside him. Then, after a sudden and tremendous explosion, he bursts out hundreds of vicious blocks, falling down and pressing down the poor, no longer happy hills.
While the dark giant continuously produces more and more blocks, you must free the hills from oppression, calm down the fuming giant and restore Happiness in Euphoria!
Forum Thread: Happy Hills 2: Bombs Away! – (by Thumbstar Games) [Universal]
---
Lead the Brave
iTunes Description
Every time you push a button, its placement will be replaced.
Let the brave lead to the treasure by operating well a button!

It becomes a brain teaser.
Forum Thread: Lead the brave – (by Hiromu Kato)
---
Level 22
iTunes Description
Gary is an office worker who oversleeps after a drunken night out on the town. Here's where it gets tricky, because this isn't the first time Gary's been late for work, and he could be fired if he's spotted arriving at his desk after everyone else yet again. So he'll have to prove he's smart and sneaky enough to make his way up all the 22 floors between him and his office without being seen.
Forum Thread: LEVEL 22 (by Noego)[Universal]
---
Machines at War 3
iTunes Description
The creators of the mega hit real time strategy game Land Air Sea Warfare bring you their newest heart pounding action packed RTS, Machines at War 3. Featuring over 130 different types of units and technologies, 21 campaign missions with characters and full story, network multiplayer to challenge your friends, and so much more!
Forum Thread: Machines at War 3 – (by Isotope 244) [Universal]
---
Marvel Puzzle Quest: Dark Reign
iTunes Description
Assemble a team of Marvel's biggest super heroes and villains and battle with Puzzle Quest's trademark match-3 and story-telling gameplay in a game that combines favorite Marvel characters with a deep RPG leveling, player vs. player, character upgrades, and more.
Forum Thread: Marvel Puzzle Quest: Dark Reign (by D3PA)[universal]
---
Nakama
iTunes Description
Jump, Slash and rescue your Nakama (friends). A retro beat'em up with an interesting visual style and crazy fast action.
Forum Thread: Nakama – (by Crescent Moon Games) [Universal]
---
Nascar: Redline
iTunes Description
The world's most popular racing competition for the first time on iOS!!! NASCAR®: Redline™ is a unique racing career game that lets you live the life of an up-and-coming NASCAR star. Start out as a rookie in the NASCAR Sprint Cup Series and work your way to the top by training your team, upgrading your car and making the right moves during the race at critical moments.
Forum Thread: NASCAR: Redline – (by Eutechnyx Limited) [Universal]
---
NBA 2K14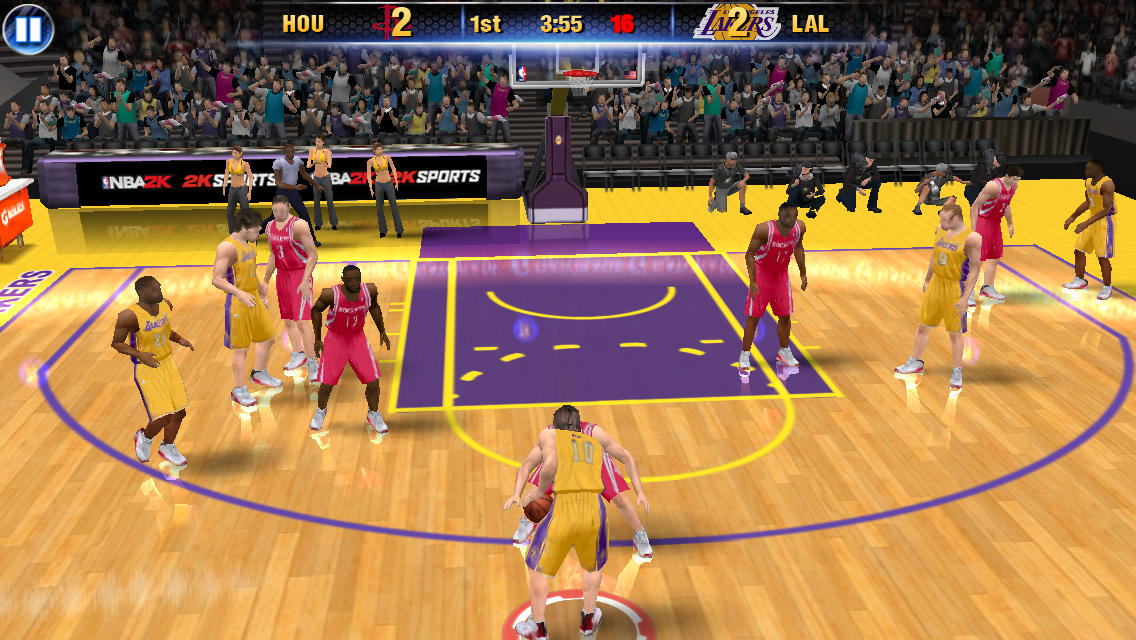 iTunes Description
NBA 2K14 is the latest installment of the world's biggest and best NBA video game franchise. With more than 38 Sports Game of the Year and "Best Of" mentions last year on console, 2K14 is set to rule the virtual hardwood on iOS. This year, we've joined forces with the league's most dominant force: LeBron James. NBA 2K14 will raise the bar, yet again.
Forum Thread: NBA 2K14 (by 2K Sports) [Universal]
---
Pandemic: The Board Game
iTunes Description
Pandemic: The Board Game is a family-friendly cooperative game. Simple to understand and lots of fun, Pandemic: The Board Game puts you in an apocalyptic situation where you must work as a team to save the world.
Forum Thread: Pandemic: The Board Game – (by F2Z Digital Media Inc.)
---
Pocket Mine
iTunes Description
It's mine o'clock, time to dig! Tap the blocks to delve deeper and deeper in your Pocket Mine. Find treasure chests, rare artifacts and trigger explosive chain reactions!
Build your deck of booster cards to reach your maximum digging potential and reach the top of the leaderboards!
Trade with your friends to complete museum collections and get sweet rewards!
Forum Thread: Pocket Mine – (by Roofdog Games) [Universal]
---
Project '88
iTunes Description
Project '88 is a fast paced minimal action game inspired by Amiga intros and demos.
If you for once want something actually challenging this is a game for you. At first you may fail, fail and fail again but once you master it, the satisfaction is overwhelming. Just give your brains a break and let your spine handle it.
Superb playability. Awesome retro style graphics. 16-bit sound track. Semi-procedural levels. Retry in fraction of a second.
Forum Thread: Project '88 by Routa Games [Universal]
---
Spin Hero
iTunes Description
You are the Hero. You are the One. Your heart craves for victory.
Your journey awaits. Take your sword. Crush enemy hordes.
Defeat the Dragon! Loot the Treasure! Gain the Glory! SPIN TO WIN!
Forum Thread: Spin Hero – (by Crazy Bit) [Universal]
---
The Cave
iTunes Description
Assemble a team of unlikely adventurers – each with their own unique personalities and stories– and descend into the heart of a sprawling, sentient cave in order to find that which is most important to each of them. The Cave has had millennia to spruce up the place so prepare to dive deep and solve the puzzles hidden within exotic locations including a subterranean amusement park, medieval castle, and fully armed nuclear research facility. The Cave is waiting.
Forum Thread: The Cave – (by SEGA) [Universal]
---
Transport Tycoon
iTunes Description
Transport Tycoon contains everything that made the original PC game an all-time classic, plus a whole host of brilliant new features – bigger, richer worlds, deeper simulation and a huge variety of land, sea and air vehicles. The intuitive new touch screen interface makes it easier than ever to build and maintain your transport network.
Forum Thread: Transport Tycoon – (by 31x Limited) [Universal]