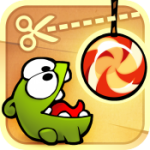 When Cut the Rope first landed in late 2010, it was heralded as "the next Angry Birds" for striking that balance between cutesy visuals, just-challenging-enough puzzles, and accessible mechanics that reached a broad audience of players. And it was an awesome game, one which I played to death when it came out. And, much like Angry Birds, Zepto Lab has continuously updated Cut the Rope with new content packs since its release.
Well, I guess I hadn't played Cut the Rope in some time, but when I saw there was a new update today and I fired it up I was blown away at just how many level packs are in the game now. It's insane. Today sees the Cheese Box update which brings 25 brand new levels and a bothersome mouse into the mix. The mouse will grab your piece of candy and appear in different holes in the background at different times, so you'll need to time things just right to end up with the candy in Om Nom's mouth.
I'm going to have a busy afternoon playing through all these Cut the Rope level packs I've missed out on over the past couple of years, including this new Cheese Box update. If you're like me and haven't checked out the game in a while then you're in for a real treat, and if you're a Cut the Rope fanatic, well, now you've got 25 new levels to demolish with even more on the way in the future.