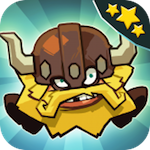 We dig this one a lot. Icebreaker: Viking Voyage ($0.99) is a Cut The Rope-y style physics-based puzzle game that tasks you with slicing and dicing pieces of ice and rescuing the little bearded men trapped inside of them. It's not as dry as Cut The Rope, though — developer Nitrome does a great job integrating physics-enabled objects and obstacles that interact with the ice in imaginative ways, forcing you to think around the objective.
You'll get a taste of what we mean if you check out our latest TA Plays. Puzzle Guru Eli Hodapp sat down with me this afternoon and helped me solve a couple of puzzles. We think this will give you a pretty good idea of how the game encourages players to solve stuff, as well as give you a heads up on how often Viking Voyage mixes things up:
If you like what you're seeing, you can grab this one on the App Store now.