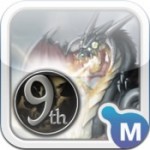 I remember when role-playing games emphasized discovery, and exploration, as much as the stories it was telling. You were instantly dropped into a world with nothing but your instincts to guide your way. Games like Valorware's latest iOS RPG, 9th Dawn ($2.99), remind me of the DOS games I grew up on, why I love and hate them, and why these days it's refreshing to return to games that don't hold the player's hand so much.
9th Dawn starts in a tiny village called Agaria, on the huge island continent of Montelorne, where after naming and selecting your character's class – Knight, Archer, or Mage – you equip your bearings and venture forth as your heart desires. To be fair, the enemies in the forests of Montelorne will do all they can to keep you from treading too far; they don't seem to scale to your character level – which is the way I like it. Expect tons of quest-giving NPCs to hand out a slew of fetch quests and such. There's tons of loot to be collected and sold for silver. And of course all kinds of hidden caves to explore on your adventure.
To my surprise, 9th Dawn uses a virtual dual-stick system to control your character and actions. Left-stick moves while the right is used to aim attacks, for all 3 classes. It's a system that I can stand by, relying on the player's capability to land attacks rather than traditional dice-rolls. Making matters tougher is a line-of-sight system which hides enemies on-screen that you realistically could not see otherwise. I'm happy to admit the controls are comfortable and rarely stumbled in moments of tension throughout the dozens of hours I've spent playing.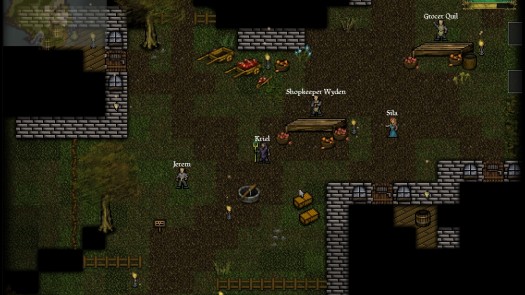 9th Dawn is not intended to be a RPG for everyone, often expecting you to be familiar with the computer games of which it is molded. There's something endearing about having to go into your inventory and use the journal to actually read it; instead of simply pausing to a quest-log. Or realizing the game's so dark because night fell and you have yet to light a torch. These charming examples eventually lose steam, though, becoming an extra step to a simple action. The realization and solution to it remains a gratifying "ah-ha" moment of common sense all along. Sure, it's a practice that many consider a step-backwards in UI innovations anywhere else, but specifically in 9th Dawn – a game channeling the likes of early '90s computer RPGs – it feels like a smirking call-back.
9th Dawn's issues stem from everything it attempts to be. Its UI is cumbersome, often two-touches deeper than need be. Its lack of a quest-arrow often turns its back on the player's free-time. Classes often feel a bit unbalanced, as well; especially noticeable when enemies are respawning at a looping-rate. And then there are the countless bugs/glitches, as we come to expect in such a huge open-world. As much as I appreciate the desire to keep 9th Dawn as true to its roots as possible, it also eventually becomes a reminder of why developers have turned to simplification of UI.
From its overwhelming amount of content and command prompt – yes, it totally has a command prompt which can be used for all kinds of excellent controls like resetting class attributes and resetting spawn points – to its engaging combat and line-of-sight system, I've found it hard not recommending Valorware's latest to fans of RPGs. Yes: there are cool spells, hot-bars, 100 levels to grind a character-build through, etc. Trust me when I say there's too much to write about when it comes to reviewing 9th Dawn – sorry guys, I totally had to pick and choose my talking-points to avoid blabbering-on about stuff.
On paper: 9th Dawn sounds like a generic retread through forests too old to hold endearing. To my surprise it was not entirely that; instead becoming a slightly-modernized, nostalgia-inducing explore-athon in a world with lots to do, see, and kill on the go. Valorware is also one of those breed of developers who listen to their fans, constantly updating the game to fit all desires; which means this game should only age better with time.
The TA forums seem to be enjoying 9th Dawn as much as I, and for good reason. There are plenty of RPGs to play on the app store, but none that capture, and reinvigorate, the authenticity of those computer games of yore. Give 9th Dawn your time and it can teach you: what role-playing games were once like, why we should respect how far the genre has come, how sometimes calling-back to systems of old can re-engage tired genres, and… how to have fun gripping an iOS device for hours upon hours.