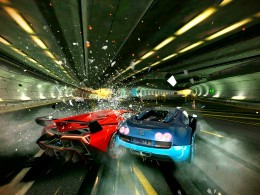 Heads up: the next game in the Asphalt series, Asphalt 8, is heading to mobile this July creator Gameloft revealed on its blog this afternoon. The new racing game will feature a total of eight "all new maps" set in places like, say, the Nevada desert and the streets of London. Also, it'll pack in synchronous and asynchronous competitive multiplayer that offers more than just racing — a new "tag-you're-it" kind of mode will be available, in addition to a drifting mode that has players seeing who can drift through the most gates.
Asphalt 8 also sees a key tweak: a new physics model. You can get a taste of that in the trailer we've embedded below.
The price of this, by the way? According to Gameloft, it'll launch at 99¢.