Let's be honest: if you're a fan of Ron Gilbert's work you're already playing Scurvy Scallywags (Free), only reading to make sure I give the game a score you can agree with. Scroll to the bottom, and thank me later. For everyone else: I hope you're looking for a match-3 that's more than what the App Store has accustomed you to; because Beep Games' latest pirate-themed matcher is exactly that.
Scurvy Scallywags takes a customizable pirate avatar island-hopping across the seas, plundering familiar match-3 gameplay, for loot, while defending from the likes of undead swashbucklers. 16 verses of The Ultimate Sea Shanty – a charming pirate-jingle you have set sail to collect – are sprawled across a dozen hours of gameplay, wrapped in an art-direction that often feels inspired by Spumco cartoons.
Scurvy Scallywags uses an unorthodox method of shifting around the match-loot, making it feel new while allowing more strategic control over the playing-field. Items, enemies, and swords enter from all four edges of the board, instead of dropping from the top like most other match-3 games. Whichever direction you choose to shift-items, while making an item-chain, determines from which direction new objects fill the playing-field.
The avatar also takes up a spot on the board, left vulnerable to enemy attacks if found side-by-side with one. Matching 3+ swords increases your attack-rating.  Stack up attack to a value higher than an enemy to best your opponent in battle. This combat-system reveals itself the tutor on how this match-3 is *supposed* to be played; maneuvering your pirate away from enemies – through well plotted matches – while anxiously collecting swords – which increases your attack rating.
To my surprise, Scurvy Scallywags is not simply about clearing a board's objectives and moving on; it's about survival. Moving your pirate successfully around a board covered in enemies leaves more time for matching & looting, collecting quest items – YAR, lots of side-quests – and time to build up attack-power. Also, with an item-shifting mechanic, like so – that takes some time to grow accustom to – surviving is not easy. It sure is an immensely fun challenge though.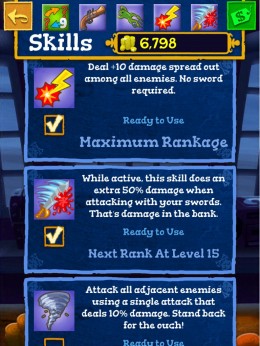 As you progress through the seas of Scallywags your chubby pirate levels-up, allowing you points to upgrade 1 of 5 attributes. Your precious loot gets spent or the many available skills – like swapping adjacent pieces on the board that don't match or 50% attack damage. You know, standard RPG stuff. In fact, RPG systems are littered throughout the game; from a ship-crafting system to extensive quest-logs to collectable outfits. All of which help add depth and legs to this match-3 experience. If that's not enough, the random joys of looting chests, and gifts, are represented in a tantalizing slot-machine system keeping excitement high.
Scurvy Scallywags ran without a hitch on all my iOS devices – iPad, iPhone, and iPod touch. Yet, over on the TA Forums I'm hearing grumbles of crashes. While I can only speak for myself, if you're concerned of these issues I'd suggest heading over to our forums to FAQ-check the situation for yourself. It ran flawlessly for me, though.
There's very little that frustrated me with Beep Games' latest. Even the single IAP – which is an unnecessary coin-doubler – is un-intrusive and tucked away. What little gripes I'd have left stemmed from endearing yet repetitive music, a lack of character-slots and deleting options, and a desire for less-linear progression through the earlier stages of the game.
I was never bored, nor distracted, when playing; the challenge of surviving as long as I could on a single board was engaging, and never felt the same way twice. Game Center achievements are well designed and help steer the player to approach gameplay differently. Also, when the pacing begs to kick-it-up-a-notch, late game enemies maneuver and attack differently, forcing plotted-moves to fire from my brain like cannon balls. Eventually the game boils down to much more than the traditional "find the single available match and cross your fingers" trope the match-3 genre has garnered.
Scurvy Scallywags bleeds the charm and personality of Ron Gilbert's classics, and is something to appreciate in a landscape of games that often find themselves without an identity. As far as match-3 games go, these days: one this chunky – in content – and fun to play, while shedding the trickery of IAPs, is a god-send. Beep Games manages an approachable, strategically-deep, and personal entry into a genre that typically lacks it. Play Scurvy Scallywags or walk the plank? I highly recommend the former (cue pirate voice) and a bottle of rum.