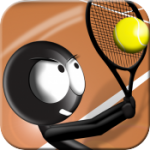 As we mentioned at the beginning of the month with the release of Stick Stunt Biker 2 (Free), Djinn Works are the most prolific producers of stick-figure based mobile games. They crank them out at a brisk pace, but they always end up being pretty darn fun little games. Not even a month later and already they are back with another title, this time taking on the world of tennis with Stickman Tennis ($0.99).
Strangely, there aren't a whole lot of options for tennis fans on the App Store, and even Sega's mobile rendition of their popular tennis franchise Virtua Tennis Challenge (Free) was kind of a letdown when it released last year. However, for a somewhat simplistic, arcadey game of tennis, Stickman Tennis delivers.
The setup is simple. You'll guide your stickman through 64 different tournaments in the single-player campaign, or just hop right into a one-off quick game. You have the option of having your character auto-run to the ball or you can choose to control his movement manually. You can also choose from 3 opponent difficulty levels and the length of each match.
Stickman Tennis is controlled with a virtual stick for movement (or just for shot direction, if you choose the auto-run option) and a set of 3 virtual buttons – one each for a lob, slice, or topspin shot. You'll hold down the button of the type of shot you want to hit, and when the ball is near you release it to perform the shot. How well you hit that shot is all based on timing, so let go too early or too late and it won't result in an optimum shot.
And… that's pretty much it. Like I said, this is a simple game, but a fun one. The performance is smooth and the AI appears to be pretty competent, at least in the early goings. This isn't some deep tennis simulation game, but for what it is I'm enjoying it a lot. It feels like a good fit for mobile. Stickman Tennis is out worldwide already, so if you're interested grab it with the link below or check in with the forum community for more impressions. Also, if you're an iPad gamer you're out of luck at the moment, but a Universal update is in the pipeline.