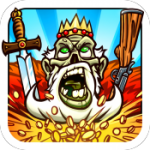 This past February a sequel to one of our favorite quirky little iOS titles King Cashing was released, aptly titled King Cashing 2 (Free). It took the main hook of light RPG elements based around a slot-machine battle mechanic and basically cranked everything else up to 11 in terms of new content and improved visuals. We really liked King Cashing 2 in our review, if you want to delve a little deeper.
Late last week King Cashing 2 received its first major update, and it's quite a doozy. First off is an entirely new 4th Volume called Wet Crown which continues your adventure with new battles and story progression. Also it has rain, apparently. That crown has to get wet somehow.
Other new additions include a new Hard difficulty if you've felt the current game is a bit too easy, as well as an actual Hardcore mode which will completely delete your save file if you die. Sounds brutal. Enemies get a bit tougher too with a new Fader enemy ability which takes their avatar off the slot reels after a successful hit from you, lessening your chances of hitting them as the battle goes on.
There's also more than 30 new weapons including 6 unique diamond weapons, and a hint at a "super secret" weapon; new bonus items and a new bonus item type called Amulets which let you prevent an enemy from using a move; and two new Game Center leaderboards along with 15 new achievements.
The more mundane details of this King Cashing 2 update include a fast animation option to speed up the battles if you desire, a fix for Volume 3 on the iPhone 3GS and the 3rd Generation iPod touch, and a collection of various other tweaks, fixes and optimizations. King Cashing 2 is an even tighter overall package now and is literally stuffed with content, so if you enjoy a good adventure then it's a game that's definitely worth your time.