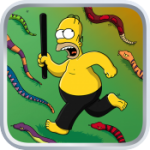 The digital money printing machine known as The Simpsons: Tapped Out (Free) has received a new update themed after the most important fake holiday known to man: Whacking Day. Ok, maybe it's the second most important right behind Festivus, and let's not forget about Love Day, but Whacking Day is definitely up there.
Despite being your typical freemium Farmville-ish city building game, The Simpsons: Tapped Out does incorporate a ton of excellent fan service. Basing an update on the iconic show's fictional snake-clubbing holiday is further proof of that.
Whacking Day is officially on May 10th and in this new update there are all sorts of new ways to celebrate this special day. Take place in a time-limited event to whack snakes and earn special rewards, expand your city with new buildings and decorations, and complete new quests. You can also play with a handful of new characters including "washboard abs" Willie. Just don't be playin' with him between 4 and 5. That's Willie's time!
If you've been dutifully building up your own virtual Springfield in The Simpsons: Tapped Out then you should be pretty stoked to check out the new Whacking Day update content. If you're a Simpsons fan but haven't dabbled in this city-building adventure then it's a free download if you want to give it a look firsthand.