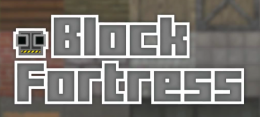 I feel like I've just been behind these past couple of weeks. Emails piling up, new games still needing to be played, and new posts in our forums needing to be read. At least that's the excuse I'm going to go with for why this Block Fortress trailer somehow slipped under my radar for over a week now, because had it not I would have posted it so fast your heads would still be spinning. Seriously, this game looks awesome.
For some quick back story, we briefly posted about Block Fortress back in January when all we had were a few details and some screens. Essentially, you fly around a map and build up a fortress using various types of blocks, Minecraft style. When you're finished, you'll test out your creation against waves of enemies who are bent on destroying your structure. The coolest part? You can hop in and help your own cause by blasting away at the enemies yourself in a first-person perspective. Check out the trailer.
Going into more detail, Block Fortress will have 3 different modes. Survival mode where you'll need to place mines around the map to earn resources towards building your fortress and upgrading your weapons, a Quick Play where you start off with a huge sum of money so you can build the best fortress possible and then see how long you can make it last before it's destroyed or your character is killed, and finally a Casual mode where you have unlimited resources and can build whatever you like and only send enemies in if you feel like it. There's also an entire crafting system that lets you build new items and augmentations for your weapons, as if everything else wasn't enough already.
I'm really psyched for Block Fortress, especially with how fantastic Foursaken Media's previous game Heroes and Castles ($1.99) turned out, which incidentally is far and away one of the most popular games amongst our community since its release. You can keep tabs on Block Fortress in the discussion thread in our forums, and get ready for the official release which should be March 7th if everything goes smoothly with approval.