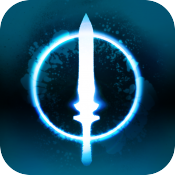 I've always hated trying to categorize games into their different genres. Heck, not even in just games but music, movies, pretty much everything. However, as is especially the case with video games, some things could fall into a number of different categories.
While an "action" category is a bit nebulous (don't pretty much all games have some sort of action?), some games seem more defined by the action they provide than with their narrative or other components.
The important thing is that when you have a few spare moments of downtime, or maybe even an entire afternoon, the iOS platform is ready with a ton of great titles that will provide you with action in some form to keep you enthralled and entertained. Below is a short list of titles whose action elements kept us on our toes during 2012.
God of Blades, Free – [Review] – [Forum Thread] – [TA Plays] – Sometimes games are more than the gameplay they offer, and God of Blades is a good example of that. Its style and overall atmosphere speaks to a very specific theme of prog rock and fantasy settings. It's as much about experiencing the game than playing the game itself. That said, God of Blades has an interesting combat mechanic that takes a while to reveal itself to the player, but once it does offers an incredibly unique, almost rhythm-based action. Once it clicks, then all the overarching visuals and themes really come together to provide a cohesive package that feels like it wouldn't be possible on any other platform.
Dynamite Jack, $4.99 / (Free) – [Review] – [Forum Thread] – When the creator of the beloved strategy title Galcon announces a new game, you take notice. The resulting Dynamite Jack turned out to be one of the more interesting action-puzzlers released this year, and feels right at home on the touchscreen. Your imprisoned in a mine deep below the surface, and must escape floor-by-floor until you can finally bask in the fresh air once again. Utilizing some stealth mechanics that harken back to the original Metal Gear, as well as tons of exploration and puzzle elements that are required to find each exit, Dynamite Jack was a satisfying journey from beginning to end.
ORC: Vengeance, $2.99 – [Review] – [Forum Thread] – [TA Plays] – It seems like people are always clamoring for the iOS platform's "Diablo" equivalent, but nothing ever quite felt up to snuff. I can't quite say that Orc is it, but it's for darn sure one of the best isometric dungeon crawlers available on the platform. Gorgeous visual, tons of loot, and missions that are appropriately bite-sized for gaming while on the go. A huge update hit recently adding even more content to this already fantastic game, making it the one to beat for all future dungeon crawlers.
Hornâ"¢, $1.99 / (Free) – [Review] – [Forum Thread] – [TA Plays] – Horn was an ambitious title, wanting to deliver an action RPG inspired by newer Zelda titles, and it succeeded on many levels. The world was gorgeous and fun to explore, with a likable main character and intriguing story. I thought the actual combat was very well done too, and a lot of fun, though it tended to feel repetitive the further along you went in the game. Still, Horn was a standout title this year that I enjoyed a lot and I'd love to see future entries in the series.
Rage of the Gladiator Premium, $3.99 – [Forum Thread] – [TA Plays] – I'd never even heard of this game until it came to iOS, but it was a popular WiiWare title that released in 2010 and has been updated and improved for its mobile release. It's a one-on-one arena combat game that might strike you as being similar to Infinity Blade, but shares more in common with the classic boxing game Punch Out! Rage of the Gladiator's combat mechanics are great and feature a number of cool weapons and special abilities to utilize against the cast of crazy monster-like opponents.
METAL SLUG 3, $2.99 – [Review] – [Forum Thread] – The Metal Slug series is one of the best run 'n gun shooter series of all time, and the third entry is widely considered to be the best of the bunch. It made the transition to the touchscreen quite beautifully, maybe not at first but with a subsequent update that addressed any issues we had in our original review. With the first Metal Slug recently popping up on iOS as well, I'm really holding out hope that this classic SNK franchise will see all of its games released on the platform at some point.