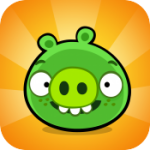 All eyes were on Rovio as they prepped to release a legitimate follow-up to the Angry Birds series that has defined them, and they successfully pulled it off with Bad Piggies (Free), proving that they're not just a one trick pony. Well, I mean technically Bad Piggies is still in the Angry Birds family, but it offered such a different type of game and with such a unique perspective from the Piggies' point-of-view that it really felt like its own thing, and would have been a great game even without any affiliation with the Angry Birds.
Anyway, if you haven't taken the plunge with Bad Piggies just yet then now is the time. Free lite versions have been released for both the iPhone and the iPad, and right now the iPad version Bad Piggies HD (Free) is actually on sale for 99¢, down from $2.99. In case you didn't know, we really liked Bad Piggies in our review and were quite happy when an update landed a short time later which added in new levels and content.
Oh, and along with the sale on Bad Piggies HD Rovio has also marked down ALL of the other iPad-native versions of their games, some for the first time ever. That's Angry Birds HD (Free), Angry Birds Seasons HD (Free), Angry Birds Rio HD (Free), Angry Birds Space HD (Free), Angry Birds Star Wars HD (Free), and Amazing Alex HD ($2.99). Whew! Seriously, if you've got an iPad definitely take advantage of some of these sales, or at the very least check out some of the lite versions.