Quite a few stars have aligned to launch the TouchArcade Free Play initiative. Our first game we're going to be featuring is Crescent Moon Games' Aralon: Sword and Shadow HD (Free). The two year anniversary of the game's original release is coming up and Crescent Moon is gearing up for the impending launch of Ravensword: Shadowlands– Another massive open-world RPG. Aralon provides a fantastic glimpse of what iOS devices are capable of, and according to everything we've seen, Ravensword: Shadowlands is taking this formula one step further.
We loved Aralon in our review, along with the whole backstory of the extreme makeover the game saw as soon as original creators Galoobeth Games teamed up with Crescent Moon. At the time of its original writing, the Aralon anticipation thread was the most trafficked thread in TouchArcade forum history.
I used to look at my iOS device as a small window into new worlds and fun experiences, and with Aralon I feel like I actually have a fully realized living and breathing universe sitting snugly in my pocket.
Aralon features over 30 hours of gameplay, and an incredibly depth character creation system complete with multiple races and classes- Each with their own unique skill trees. Accompanying the main story quest is tons of optional side quests to complete, hundreds of items to acquire, faction systems, crafting systems, and mounts ranging from basic horses to epic dragons.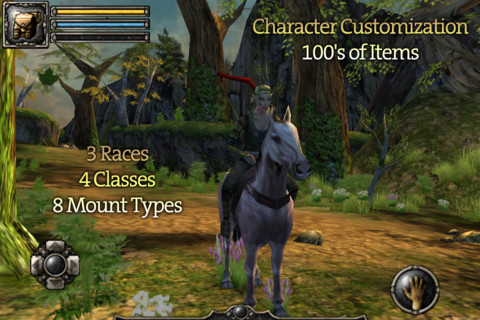 To sweeten the deal further, online save game syncing allows you to bring your character with you across multiple devices. Additionally, because it was released in 2010, the game runs well on basically every iOS device out there, and has only gotten better on newer hardware which has allowed for rock solid frame rates and Retina Display graphics.
We hope you enjoy Aralon: Sword and Shadow as much as we have over the years. It's an incredibly solid start to the TouchArcade Free Play program, and serves as an excellent benchmark for what to expect in future Free Play titles. We'd like to thank Crescent Moon Games for agreeing to participate in this inaugural Free Play.
Aralon is going to be free for a very limited time, so be sure to grab it, tell your friends, and have fun playing it.
---
To read more about the TouchArcade Free Play program, check out our introductory post: Introducing TouchArcade Free Play – Get Amazing Games for Free where we lay out what it takes to be a Free Play game, and how often you should expect to see awesome freebies. To stay on top of future TouchArcade Free Play titles, bookmark http://toucharcade.com/freeplay and download the TouchArcade app (Free) to get push notifications of when they go live!