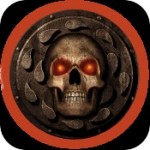 Ever since this past March when we first heard that the legendary role-playing game Baldur's Gate was heading to the iPad in a new enhanced version, out excitement has been palpable. Brad and Eli are excited to relive a late-90s classic on the touchscreen, and yours truly has never had a chance to play said title, which I've heard is a crime in the gamer community. Well I'm more than ready to right that wrong as following an accidental release last week, Baldur's Gate: Enhanced Edition ($9.99) has finally landed in the App Store.
If you happen to be an original iPad owner who's been awaiting Baldur's Gate: EE with bated breath, you might want to sit down for this. Beamdog's Trent Oster recently tweeted about running into memory problems with the iPad 1 due to it only having 256MB of RAM, but it sounded like they might have gotten a handle on it.
Sadly it doesn't look like that was the case, as Baldur's Gate: EE requires iOS 6 to install, which isn't supported on the original iPad effectively excluding it from compatibility. That's something that'll likely tick off owners of 2nd and 3rd generation iPads too who have held off on upgrading to iOS 6 for whatever reason. I'd say it's also entirely possible that they checked the wrong box in iTunes Connect or something and didn't actually mean to require iOS 6, but that's just speculation. As of right now the bottom line is you'll need to be running iOS 6 on anything newer than an original iPad to run the game.
If you're among those that are able to play Baldur's Gate: EE, you better clear your calendar. This bad boy promises upwards of 80 hours of gameplay, including some brand new content available as in-app purchases like a new adventure called The Black Pits and 3 new playable characters. If you buy the initial game and all IAP you'll be getting the exact same content as the desktop versions, which did launch last week without a hitch, and it'll be the exact same price. Of course if you don't splurge on the extra stuff you're still getting the entire original game for half the price as on other platforms at $9.99. Not bad.
We will of course be bringing you more on Baldur's Gate: Enhanced Edition soon, and you can stop by the forum thread to check out discussion and impressions as gamers are reliving – or even diving into for the first time – this classic RPG.