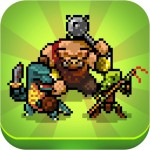 I've been doing the pen and paper role-playing thing for over a decade now, and there's one problem I've seen over and over with new players: they're often uncomfortable committing to the absurdity. It's hard to take yourself seriously and pretend to be a half-elf assassin with a bounty on your head or the best damn wizard your wizarding school has ever produced. Behold Studios' Knights of Pen & Paper ($4.99) doesn't have this problem. It jumps into the absurdity with both feet, bringing players along whether they like it or not.
That's not to say it's a game I'd sit down to play every week, pulling out my dice bag and my character sheet and settling in for the long haul. It has a shallow story, an uninspired cast of characters and far, far too many collection quests for any pen-and-paper experience I'd enjoy. Good thing it's on my phone, where I don't mind a little grinding in my RPGs. Sit back, relax, and enjoy the constant stream of nerdy references: Knights of Pen & Paper is a game that knows its audience and it doesn't shy away from indulging us.
The game occupies an odd space in the gamers' pantheon. It inhabits the world of tabletop role-playing, with all the d20s and Doritos that entails. Structurally, though, it's an RPG, with the party, leveling and questing all in your control. Then there's the stuff that feels uncomfortably mobile-specific, like its unending focus on money—earning, spending and, yes, buying it.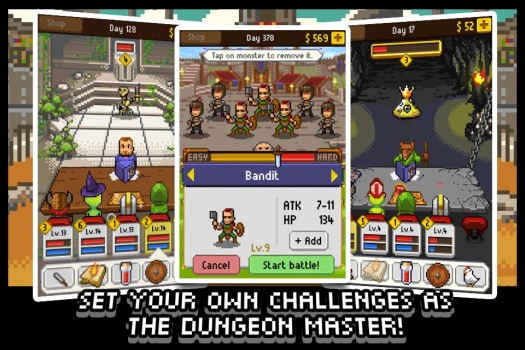 You play an entire gaming group—a game master and up to five players—in a story that's set across both the "real" world and the game-within-a-game of their campaign. You control the players' choices, like where they quest and what abilities they use in combat, and you also control the GM's decisions, like how many of which monsters you'll throw against the players. Knights of Pen and Paper handles the story and the player reactions to it, leaving you largely out of the picture for that side of things.
There's quite a lot to do in this pen-and-paper world. You travel from village to village taking quests to help the locals, running into unusual characters and references from across the geek spectrum (Journey and Ghostbusters both feature, for example). You wander into dangerous areas and kill whatever you feel like killing. You farm grindstones and mushrooms to level the merchants who sell your party their gear and consumables.
Then there's the much more meta side of things. The money your characters earn in-game can be used to buy decor and goodies for the room they're playing in, and the quests they complete occasionally unlock new players and classes to join them in their campaign. You can also take a step further back past that virtual reality to the real world and use real cash to buy money to spend in the game room or the campaign world. It gets a bit overwhelmingly layered at times, but for the most part the game plays it tongue-in-cheek.
Though it has the look of something like a Kairosoft sim, there's some depth to the mechanics that make up the Knights of Pen & Paper campaigns. Combat is an honest-to-goodness RPG challenge. You level up your players, get them the best equipment you can, pick their abilities, and decide how best to use them in each situation. You do control the difficulty of many of those situations, but that doesn't make them any less fun to throw at your players.
Things get a little too absurd when the game hews most closely to its tabletop roots. Dice rolls seem like a necessary part of the game, but every time that D20 comes out you have to start worrying. In theory it controls whether you get attacked while resting or traveling, but thanks to an odd luck system that adds to your rolls, that rarely happens. Instead it tends to cheat you out of things in really annoying ways.
Take crafting, for example. Once you save up the blacksmith's usurious prices for gear, it's down to a dice roll whether you'll actually get anything for your payment. Unless you get a natural 20, you'll then need to wait quite a few real hours for your gear to be built—and even then, it's not a speedy process. Similarly, there's a chance to fail when collecting resources to level the smith or enchanter. This isn't too obnoxious until you realize the spawn points take hours to reset. With enough money, none of these things really matter. Without a ton of grinding, though, you'll never really have that much money—not unless you buy it. Awkward.
The game's other serious oddity is its script. There are some outstanding gaming references to be found, and many character encounters that will be pleasantly familiar for practiced role players. Unfortunately, these are so swamped with errors that they can't always be sensibly parsed. Hopefully we'll see this cleaned up in a future update—though the errors fade away to a charming quirk pretty quickly, the game would still be better with a clean script. It would also be better without the item and skill bugs scattered throughout, so let's hope for some fixes soon.
Still, it's hard to hold a grudge when Knights of Pen & Paper does such a great job of pandering to my favorite pastime. Even when its story temporarily devolves into a series of extremely dull fetch quests, it's kind of a blast. For a game about such a particular hobby, it does a good job of being a crowd pleaser with well-designed RPG elements and odd little sim touches. Let it get some experience under its belt, level up with a patch or two, and it will be a serious contender for my favorite RPG on the platform. For now, it's a game I like to sit down with, even if the sessions get a little messy. When it comes to role-playing, if things don't get messy they're rarely as much fun.