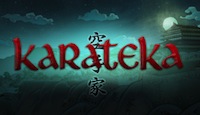 Confirmed: the re-imagining of Karateka is coming to iPhone, iPad, and iPod touch this month, according to a press release. That settles the issue of if it's coming, at least.
When specifically is another matter. The press materials don't pack in a solid date for the iOS release, but it's probably safe to assume that this version will hit after the XBLA version's release this coming November 7. No price for iOS has been announced. The Steam, XBLA, and PSN versions will be going for $10.
Billed as a "rhythm-based story fighter," this new Karateka will tasks users with doing a familiar thing: fighting dudes in order to save "the lovely Mariko" from "the evil warlord Akuma." We've got some screens above.