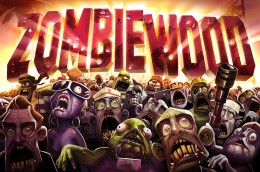 If you still haven't gotten your fill of zombie games just yet, Gameloft will have you covered this Halloween when they launch Zombiewood on iOS. The premise is actually pretty clever: you're a Hollywood stunt man, but when the zombie apocalypse hits you're quickly turned into a real-life hero as you must fend them off to save your own skin (and brain).
Sensing a golden opportunity, your movie director boss decides filming your zombie-killing exploits would make for some truly authentic scenes in an upcoming flick. The game is broken down into several different "movies" that take place in Los Angeles and Santa Monica. There will also be a wide assortment of different costumes and weapons to unlock and equip your character with.
Zombiewood will be free-to-play so much of my excitement will hinge on just how egregious this is implemented into the game, but at the very least it looks like a pretty action-packed dual-stick shooter and it has a great visual style. I'm also liking the story setup with a stunt man gone vigilante hero, so I'm excited to give Zombiewood a spin when it hits the App Store at the end of this month.