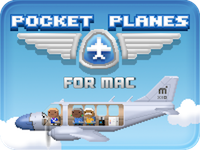 This is neat: Pocket Planes (Free) is coming to the Mac App Store this Thursday, NimbleBit just announced, and it'll launch with cross-platform syncing. So, no matter what platform you play the game on, you'll always be able to resume right where you left off.
If you're into bonuses, there's at least one in the upcoming desktop version of Pocket Planes. NimbleBit tells us that the Mac version rocks an exclusive plane called the X10 Mapple Pro. It's a class 1 plane that can carry two passengers and two cargo. NimbleBit says it's a bit faster and has a little bit more range than the Mohawk.
In celebration, NimbeBit is launching a video series called "Pocket Planes Shorts," the first of which we've included below. A Tiny Tower series is planned as well.