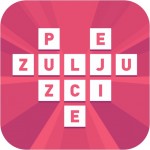 One of the most clever games released this year is Puzzlejuice ($1.99), the amalgamation of match-3, Boggle, and Tetris from developer Colaboratory. The unlikely combination of those elements worked brilliantly together in our opinion, and it was packaged with a clean art style and thoughtful interface design.
This week Puzzlejuice received a nice update that adds a great new mode called Impossible. Well, great only if you are craving a brutal new challenge in Puzzlejuice. Impossible mode is aptly named and features faster moving blocks and a punishment for spelling 3-letter words.
Busting out some simple 3-letter words when your back is against the wall is common practice in Puzzlejuice, but if you do it in Impossible mode you'll create a Null block on the board. This block can only be cleared with an explosion, so it becomes a nuisance real quick once you start collecting them.
Other additions in this update include a new power-up called the Wildcard which gives you a free tile to use as whatever letter you want, new objectives to complete, foreign dictionaries (Spanish, French, Italian and Dutch), and a colorblind mode. The original 3 leaderboards have been retired and 4 new ones take their place, one for each mode including the new Impossible mode.
If you've already got Puzzlejuice and you like to punish yourself then grab this latest update and try out its Impossible mode. The challenge is actually a lot of fun. If you haven't yet checked out Puzzlejuice, it's simply one of the best puzzle/word games around with frantic gameplay and a top-notch style. It's even been chosen as one of the PAX10, a selection of the 10 best indie games as chosen by 50 industry experts, as part of PAX Prime which is in full effect this weekend. Now would also be the time to give Puzzlejuice a look as it's on sale for 99¢ to celebrate the update.