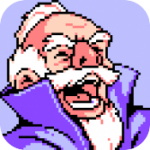 If you were among the many people who were super excited about earlier this week about Wizorb ($2.99) hitting the App Store, here's some even better news: It's available now. If you're unfamiliar with Wizorb, I think the best way to describe it as it does for brick breaking what 10000000 ($2.99) and Dungeon Raid ($0.99) did for the match three.
What I mean by that is it takes the ultra-familiar brick-breaking formula, but layers tons of different RPG elements to heighten the whole experience to really crazy levels. It might help to just check out the trailer:
We'll have a full review up in the not too distant future, but in the meantime, you can swing by the thread in our forums to get some early impressions from forum members.