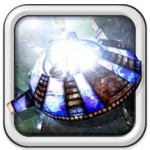 Clockwork Pixels made a splash on iOS this past March with Kitten Sanctuary ($1.99), a match-3 featuring clever game mechanics and the world's most lovable animals: kittens. Today, the developer has released their second iOS title Darkside ($1.99) and switched gears in a big way, trading the adorable kittens and casual matching for a graphically stunning and intense dual-stick shooter.
The hook in Darkside is that the game takes place on 3D planets rather than flat, enclosed arenas. It definitely has a Super Stardust HD kind of vibe, which is a very good thing as we're not likely to see that property on iOS anytime soon. The main Arcade mode in Darkside has you blasting away at asteroids floating around the planet, grabbing the powerups and items that they drop to help you clear them all. You get 3 lives to see how many planets you can clear, with the challenge increasing as you go.
The coolest part is that you can get Darkside and its Arcade mode for free, and play it to your heart's content. There's even Game Center support for achievements and leaderboards. If you like it, a 99¢ in-app purchase will unlock the full game, which includes a 100 level Mission mode and an endless Survival mode.
As you can see from the video, Darkside is a real looker. From my short time with the game it's also a lot of fun. Downloading the initial Arcade mode for free is a total no brainer if you like dual-stick shooters at all, and I think most people after just a few minutes will be dropping the 99¢ for the full game unlock. Give Darkside a look and check out our forums for even more impressions of the game.