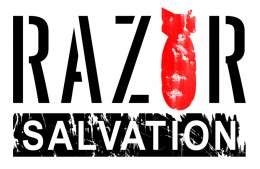 Last month we introduced you to a new collaboration between Blowfish Studios and Crescent Moon Games with a set of impressive-looking screenshots and details for a game called Razor: Salvation. The two studios had worked together previously, producing Siegecraft ($0.99) back in October, but Razor: Salvation looks to be a much different game.
It's a fixed-position shooter played from a first-person perspective, but unlike many games like this, Razor gives you a full 360 degree view of the environments where the action takes place. You can see this idea in motion in the brand new trailer for Razor: Salvation, which looks fantastic so far.
According to Crescent Moon, the game is nearly finished and they're shooting for a launch before the month is over. Until then you can swing by the discussion thread in our forums and keep a heads up for Razor: Salvation to hit soon.