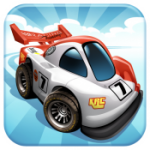 The Binary Mill's Mini Motor Racing ($2.99) was initially released late last year, and we liked it quite a bit in our review. It's a slick little top-down arcade racer with some great visuals, an excellent soundtrack, and tons of content to play through.
In our review, we mentioned how much we hoped that the multiplayer mode, which initially was local only, eventually went online. Well, this recent update adds not only complete online multiplayer via Game Center, but also an entire new championship to race in. New cars have been added, a few tracks have been "remastered," and there's a number of other tweaks they threw in as well.
If you already own Mini Motor Racing, make sure you snag this update. If you were waiting on online multiplayer, well, it's here, so get on it.