Minecraft – Pocket Edition [$6.99] took another step towards becoming what the series' fans had expected and wanted from the tablet and phone version of the PC indie darling. To put it another way, its name actually makes sense now courtesy last night's update, which added crafting, damageable items, and tool-specific gathering.
We all knew this update was coming, but what's interesting is the way the crafting part of the experience is presented. Unlike the PC version, Pocket Edition tells you what you can make and how to make it. Swathes of well-realized UI — which look a lot like the Xbox 360 version of the game's UI — hold your hand while crafting, pointing out recipes and giving you feedback on what you need to gather next.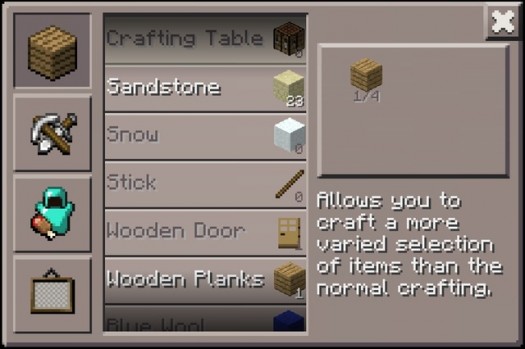 Image via Cult of Mac
Even though it might not jive with the game's spirit or themes, we think this bit of added functionality is pretty neat. If anything, though, you can finally enjoy survival mode as it was basically intended. Go nuts!