The very first post on TouchArcade was over four years ago now, which, for those of you playing along at home, was before the iOS App Store even launched. (Heck, back then it wasn't even iOS yet, and wouldn't even be iOS for another two years.) We've been hard at work on our own app with the help of Flexibits and Bartelme Design for what seems like forever, and with it being unleashed to the world next week, I figured now was a great time to lay out the features and functionality of the app.
First off, the main screen (seen below and to the left) is what you see when you launch the app. It has a featured story, which usually will be whatever our last review was, or any other story that deserves some kind of special attention. To the right of that is the "Hot Games" list, which is a killer feature of the app. What you're looking at here is a realtime display of the games that have generated the most interest in our community.
There's a whole bunch of behind the scenes wizardry taking place to compute this list, utilizing tons of different data points to create a surprisingly accurate display of what the hottest games at the time are. The cool thing about this is that the list is constantly being updated. If you want to know what the most popular games amongst our community are at this exact moment, look no further than the hot games list.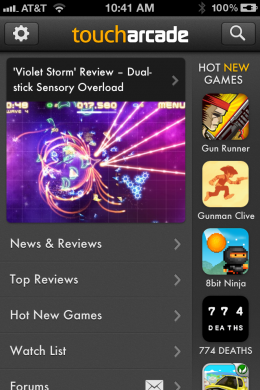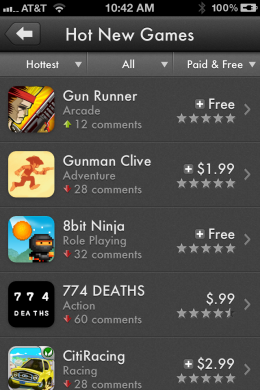 The other views of the app share a similar look, and you're able to really drill down on reviews for all the games we've looked at via a set of drop downs. So, for instance, if you wanted to see reviews of free action games posted in the last month. Totally doable. The "News & Reviews" function gives you a quick glance at all the content on the site. Oh, and if you decide to, you can even get push alerts when we post a new story.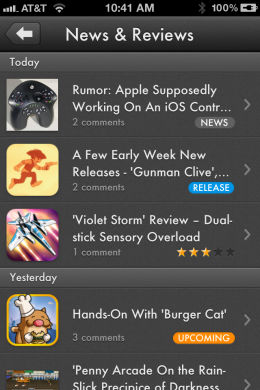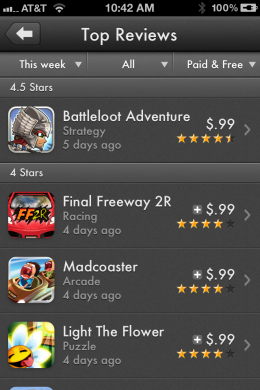 Our forums are (obviously) huge for our community, so we've included forum integration in the app. Each thread display also features all the information you'd need about a game at a glance, with ratings from both the actual App Store as well as amongst our own users. You can even assign your own ratings just like you can on your browser. See the little slider with the binoculars? Things with the app get even better.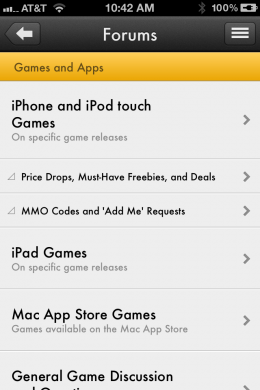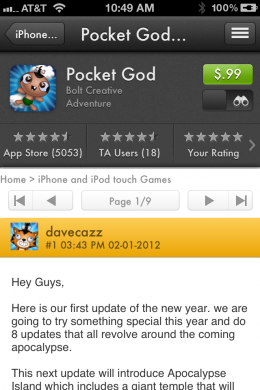 The watch list, much like the wish list in the AppShopper App (Free) is my favorite feature. By flipping the toggle switch seen above, you can add any game, regardless of whether or not it's released. From there, you can see any stories that have been posted about that specific game. Also, if the push alerts for everything we post is a little too much for you, you can set the app to only send you alerts when articles that pertain directly to your watch list are posted.
So, if we post a preview for a game that interests you, all you've got to do is add it to your watch list, and you'll get alerts for when it's released, when we post a review, and potentially even if it ever gets updates or a price drop and we cover it.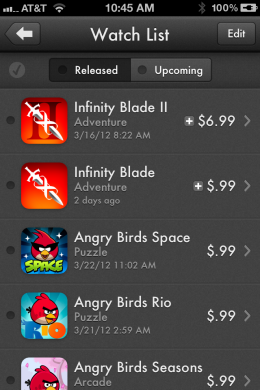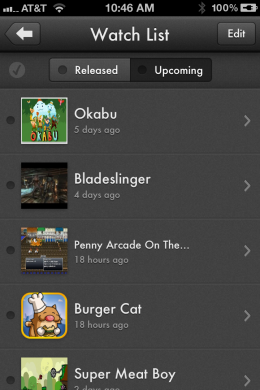 The app also has tons of information about all the games on the App Store. Once you get into the actual details page of any game (which is accessible by numerous methods within the app) you'll see our own review scores as well as the rating from out community, and you'll be able to jump into any forum thread that pertains to the game. Also, obviously, any associated trailers or screenshots are there along with the iTunes text and anything we've posted about the game.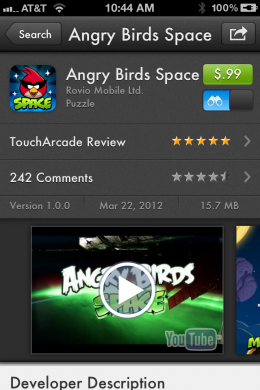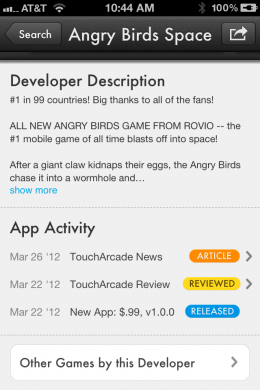 We've put a ton of work into the TouchArcade app, and we're all really proud of what we're about to release. There's a number of other little features and settings that you'll discover as you're using it, but this is the core functionality of the app. We've been using it for months now to discover games to cover on the site, and we're confident that it'll become your go to app to find the latest and greatest games the App Store has to offer.
If everything goes as planned, it will be available for free, globally, next week.