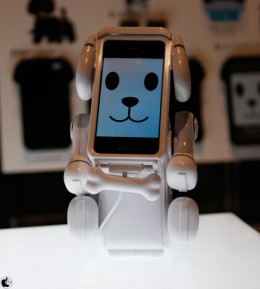 Bandai is looking to fuse the world of smartphones and virtual pets in a big way with their just announced "smart pet", as reported by Macotakara. Some details are a bit fuzzy due to translation issues, but from what I can tell the smart pet sounds like a pretty interesting idea. An app is downloaded to your iPhone or iPod touch, and that acts as the face of your virtual pet. Your device then sits inside a robot dog body and connects to it through the headphone jack, allowing the two pieces to act as one so you can interact with the smart pet.
The smart pet uses the front facing camera on the iOS device to recognize and react to certain gestures, and there will be over 100 different kinds of expressions that the pet can make. There will also be support for importing your own photos of your pets (or whoever you want, really), and there will be some sort of Bluetooth connectivity to allow multiple smart pets to interact with each other. And, perhaps most important of all, your smart pet comes equipped with the ability to sneeze. Sounds adorable.
The smart pet app is on course for release in Japan on March 31st, and will be a free download. With just the app you'll still be able to begin training and interacting with your virtual puppy, and it sounds like it will be a complete Tamagotchi-like experience all on its own even if you don't spring for a plastic robot dog body. If you must have the full experience, the smart pet body will be available about a month after the app, but no details on pricing as of now.
Neither the app or the body have been confirmed for US release just yet, but we'll keep an eye on the situation for our own curiosity, and so we can be prepared once the robot dogs decide to turn against humanity (you know it's bound to happen).
[Via Macotakara]