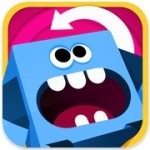 It takes a lot to make a match three stand out these days. If anyone has what it takes, though, it's the dream team of Launching Pad Games and PikPok. Monster Flip [$0.99] is developed by the former and published by the latter, and that pedigree shows. It's a slow burner, but invest a little time and you'll start to see why it deserves your love.
Monster Flip isn't the same ol' gem swapping game. The clue is in the title: these little dudes need to flip. Swipe your finger over a line of three or more and they'll flip over and swap positions. If this happens to line up at least three matching monsters, then score. It's a bit of a trick to wrap your head around the flipping, but that's just the challenge of the first few minutes. Once you have that under control you can start to pay attention to the little things. Like how quickly your score gets out of hand when you chain a few matches in a row. Or how steaming mad monsters are more than just a hassle.
Sometimes the monsters get angry, you see. It happens more and more as you progress deeper down the rabbit hole. Six turns after spawning a mad monster will throw a game-ending tantrum, so you have to stay on top of matching and clearing them. But here's the rub: the longer you leave them, the more they're worth. Want to truly dominate the leaderboards? Clear mad monsters on their sixth and final turn as often as you can. It's a huge risk, but the rewards are astronomical.
Classic mode is chill; you can take all the time you want to strategize and plan your attack. You can see the next row of colors that will drop, so triggering upcoming chains is one varsity-level strategy. If you're not into relaxed, thoughtful experiences you can check out Countdown, which pits you against a two-minute timer.
But the real fun is Sequence mode. There, you're given the exact same board as everyone in the world and 50 moves to make the most of it. Theoretically, there should be a perfect game out there to be played, and if you're really, really good, you could be the one to play it. That's the bit that gets my motor running.
If that's not enough, you can play a whole other way in Puzzle mode, striking out to clear each of 60 boards with increasingly more complicated layouts. Launching Pad has been generous with the unlocks so you should never get stuck—if you do, there's IAP available to unlock them all.
So with all that we have a matching game that's clever and surprisingly strategic, one that has a lot of content to work through and several ways to play. But that alone wouldn't make this game. What makes it is the positively adorable art and soundtrack. Jeramiah "Module" Ross is responsible for the music. You might remember his work from Monsters Ate my Condo, and he hits it out of the park here too (albeit in a slightly calmer way). In fact, all of the game's sounds are great. I keep poking the monsters just to hear 'em squeal.
When you get right down to it, Monster Flip is yet another matching game. If there's absolutely no room in your life for yet another one of those, you're not going to swoon over this one. But if there's any part of you that craves those drop and match combo chains and the increasingly ecstatic chirps and score-splashes that accompany them, this is where you'll want to look. Not convinced? Swing by our forums and share in the lovefest.