Zombie Wonderland 2: Outta Time! [99¢] has everything a good zombie game needs: guns, girls, guts, green goo and a generous amount of cleaning equipment. Oh, come on. Don't raise that eyebrow at me. You know it's true. Every good shoot-out tends to leave an inevitable mess and Zombie Wonderland 2, unlike so many of its peers, is not afraid to acknowledge it.
Here, in this goofy little defense/time-management/real-time strategy title, you'll have the dubious pleasure of playing as the redneck stereotype Chuck. Being the responsible Zombie Cleaner (and someone totally oblivious to the idea of job security) that he is, Chuck will stop at nothing to rid the world of the cannibalistic undead.
As you might have guessed, this isn't a particularly easy task. You're going to have to do everything from bringing a vegetarian vampire his lactose-rich treat to protecting pet goldfish in Medieval Japan.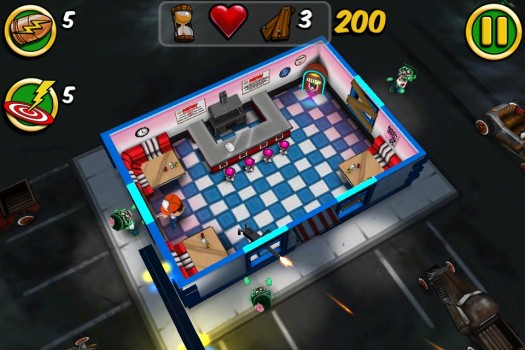 Silly, eh? If that description hasn't scared you off just yet, this might spell the beginning of a wonderful friendship. Much like the story itself, Zombie Wonderland 2 is a fair bit of mindless fun, the kind that can easily rob you of a few hours of your time. If what you want is a simple, silly hybrid of the aforementioned genres, stop reading and go download it already.
However, if you're an Apple App Store connoisseur, this may be where you sit down and ponder the direction of your dollar a bit more. Like a serving of fast food, Zombie Wonderland 2 is both satisfying and unfulfilling all at the same time.
Gameplay here is relatively straightforward. Each stage consists of you being told to defend a certain item from zombies for a number of nights. Of course, as a Zombie Cleaner, you're also going to have to do your best to ensure that there is no unnecessary gunk on the floors at the end of the night, something easier said than done.
To accomplish this, you're going to have to make use of your trusty shotgun 'Betsy', cleaning implements, turrets, wooden planks, unusual bullets and a peculiar assortment of limited-use weapons. Controls are exceedingly simple. To attack a zombie, you touch it with a finger. To board up a window, you tap it with a finger. To summon your infant Death Worm, you – you get the picture.
Sadly, though, it isn't quite as exciting as it sounds. Your nightly escapades will mostly consist of you boarding up windows and playing 'whack-a-mole' with the festering onslaught. Regardless of how many you purchase, you'll only get access to one turret at a time. One. Uno. Satu.
To make things even worse, your turrets are about as impervious to zombie attacks as cookies are to the Cookie Monster. More often than not, you'll find yourself attempting to fix it while corralling flaming cadavers. It's the same with the limited-use weapons and the various bullet types. Sure, you might have a dozen but you'll ever get to use one variety at a time.
All said and done, however, Zombie Wonderland 2 is still an enjoyable piece of work. The over-the-top silliness and the bright, colorful graphics feel reminiscent of an old Saturday morning cartoon. The game's just difficult enough to make it challenging and simple enough to engage in without requiring too much of a forethought.