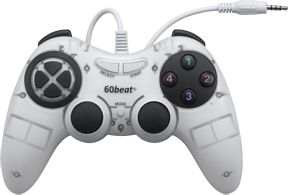 With it being extremely doubtful that Apple will ever roll out any kind of official game controller for use with iPhone and iPad, it's up to third-party creators and wizards to fill in the gap. 60beat is the latest we've seen to throw a hat into the ring, and its product, the GamePad, seems like a cool accessory.
In a nutshell, the $50 GamePad is a slick-looking, PlayStation-style kind of controller that connects, unlike many third-party controllers, to the headphone jack. No bluetooth black magic — just seemingly straight-up plug-and-play connectivity.
It features of total of ten buttons, two joysticks, a d-pad, and ships with an audio splitter and a luxuriously long four foot cable. We haven't had any hands-on with one quite yet — it's in the mail — but creator 60beat has uploaded a video of the thing in action. Take a look:
Looks cool, right? The biggest hurdle for the GamePad — other than being a good and meaningful product, of course — will be grabbing the attention of the iOS development community. It apparently requires some game-side tweaks to work properly, so 60beat and its friends will have to collaborate. As of this moment, only two games support the device: Bugdom 2 [$2.99] and Aftermath [$1.99].
The official web site for the device says we'll hear a lot more about games support in February 2012. Expect more from us on the device in the future, too.