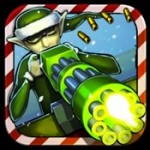 Most iOS gamers are familiar with Zombie Gunship [99¢], Limbic Software's awesome take on the AC-130 gunship scenes from recent Call of Duty console games. Zombie Gunship quickly rose through the ranks of the App Store's top charts, and was easily one of the nicer surprises from games released this year offering great visuals, frantic shooting, and upgrades galore.
Something I could have never for the life of me expected, however, is that developer Code-Monkeys is currently in the midst of creating a game in the similar vein to Zombie Gunship, except it uses a holiday theme. It's called Santa's Giftship, and it looks totally twisted. Code-Monkeys is not shy at all about their inspiration, and the following trailer gives me that deja vu feeling from when I first laid eyes on the Zombie Gunship trailer:
As you can see, most of the grittier aspects of Zombie Gunship have been replaced by a much more sugary Christmas theme. Your ammunition consists of candy canes and snowballs instead of bullets and bombs. Rather than plowing down the undead hordes, you're plowing down… nutcrackers and elves? It all seems so very wrong, and yet, so very right. Santa's Giftship should be hitting in time for the holidays, which basically means it will need to come out this week if it wants to make it in time for Christmas. We'll take a closer look at Santa's Giftship when it finally hits the App Store.