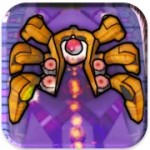 Look up. Are pigs flying? Ok, just checking, because in case you hadn't heard True Axis' Space Tripper [$3.99] is now available in the App Store. If you've heard the tale of Space Tripper's perilous development cycle that spanned more than three years, then you might be apt to think that pigs flying would be about as plausible as the game being released. However, after a late push from the developers these past couple of months, they have finally released Space Tripper out into the wild.
As a quick recap, Space Tripper started as a Mac and PC game created by PomPom Games back in 2001. In 2006, it was rereleased on the PlayStation Network as an enhanced version by the name of Astro Tripper. True Axis began working on an iOS port of the game back in mid-2008, but were riddled with setbacks that pushed the release back many times.
It features 14 different levels across 4 worlds in Campaign, Time Attack, and Challenge modes. There is OpenFeint and Game Center integration for leaderboards and achievements, and there's even a built-in cheat menu if you're finding the game a bit too difficult (though this will disable leaderboard and achievement tracking), just like the old days!
Now I don't think anybody would argue that Space Tripper doesn't look quite gorgeous, with vibrant colors, interesting enemies littering the screen, and huge boss fights. But, I'm betting at least a few of you are feeling hesitant about the game's tilt-only control scheme. Heck, I'm not typically a fan of tilt controls either, unless they're done extremely well. After playing with Space Tripper for just a short while, I can see that the tilt controls are indeed rock solid. However, as good as the tilt controls are, if enough people request it True Axis will look into a touch control option. They've tried it already and weren't happy with the results, hence why they aren't included already.
At any rate, Space Tripper seems to be good arcade shooter action already. We'll be taking a closer look at the game in the coming days, and you can check out early impressions of Space Tripper from gamers in our forums.