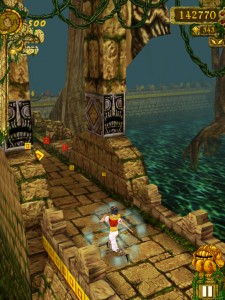 Who would've thought there was room for a new endless runner in the App Store? Imangi Studios, apparently. They surprised us in early August with Temple Run [link], an excellent new take on the formula that scored 4.5 stars in our review and was among the titles in our Best iOS Games of August 2011 roundup. I think our own Nissa best summed it up as, "the endless runner that makes you feel like an archaeologist with a penchant for deadly situations."
The only complaint I've had with the game is its lack of native iPad support. Well, I'm happy to report that the game's third update, which landed last night, takes Temple Run universal.
The v1.3 update brings the following enhancements, as listed by Imangi:
Universal iPad Support! Run for your life on the big screen!
Two new characters to unlock! Barry Bones, a city cop with an attitude, and Karma Lee, the fastest legs in the Far East. To unlock new characters, just go to the Store and scroll down.
More objectives to increase your score multiplier!
You can now Tweet your score at the end of a game! That way all your friends will know you're the Temple Run champ!
More ways to get free coins! Go to Store > Get More Coins to check it out!
Lots of performance enhancements and bug fixes! Temple Run should run smoother than ever!
I've been running this latest version of Temple Run for a while now and it's definitely more fun than ever. It's surprising how much richer an experience the game is on the iPad with its 10-inch screen. But, entrenched leaderboard kings watch out — I quickly found that playing on the iPad is conducive to much higher scoring.
A couple of weeks back, at the release of their v1.2 update, Imangi made Temple Run a free download, which is something iOS gamers seem to have appreciated. I recently managed to pull some stats from developer Keith Shepherd regarding the game's activity across its life-so-far in the App Store. As a paid app, in its first month, Imangi saw 10 million games played. Three days after going free, Temple Run hit 20 million games played, and after a week as a free app, it hit the 100 million games mark. All told, right now 350 million games of Temple Run have been played. Not a bad run…so to speak.
Imangi is working on iCade support for Temple Run and hopes to bring it in the next update.