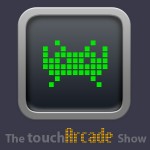 In this week's bonus edition of The TouchArcade show, we sit down and have a chat with CEO of Cedar Hill Games, Tobyn Manthorpe. We've covered his studio's latest game, Emissary of War, pretty well so far, so I'll spare the pitch in this post, however, I will say that we spend a good deal of time talking about the streamlining process which went into it. We also discuss his background at BioWare and how his experience informs Cedar Hill, Emissary of War, and his studio in general.
If you'd like to give this a listen, you can stream it or download it just below. You could also subscribe to our podcast feed and get these episodes without having to click a single thing! Its like "One Click" check-out minus the click, what a deal!
iTunes Link: The TouchArcade Show
Zune Marketplace: TouchArcade.com Podcasts
RSS Feed: The TouchArcade Show
Direct Link: TouchArcadeShow-Bonus-007.mp3, 20MB
Music for this episode is from Overclocked Remix. Specifically, we picked two up-tempto re-mixes of traditional RPG tracks:
If you'd like to get hold of us, feel free to drop us an e-mail at [email protected] or hit us up via the Twitter and the Facebook. We'll be back later this week for another regular show. I wonder what cat game Jared will pick up next?