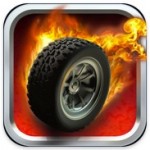 Well, it seems the folks at Mountain Sheep and Remedy Entertainment have been chowing down on their Wheaties based on all the work they've been getting done. Their popular combat racing game Death Rally [99¢] just launched at the end of March, and we're already on the fourth content update. This latest one isn't massive, but does add a few neat new features and some welcome fixes.
First off, there are 2 new Challenge race types, Dollar and Ammo. Dollar is a race where every item in crates and on the track is a cash pickup, and the same goes for Ammo but every item is an ammo pickup. The Ammo race is actually a great place to try out another new feature in this update, the Weapon Overdrive. Picking up ammo when you're already full will add a little glowing effect to your car and you'll automatically fire off a more powerful blast of whatever weapon you've equipped. So if you have missiles you'll shoot out multiple missiles, for example.
There are 2 new leaderboards in Game Center, one for total victories and one for total kills, and they've fixed a bug that prevented 2 achievements that were part of the last update from unlocking if you had previously earned them, which is nice since that was driving me crazy. They've also fixed the game progress restoration function that allows you to transfer your progress between devices, which wasn't behaving properly before. Finally, if you choose to "like" the Death Rally Facebook Page from within the game, you can unlock an additional paint job each for the Wraith, Shrieker, and Sentinel.
So, not a huge update, but a good one nonetheless. And there's the promise of much more to come, and at the rate the developers have been going I wouldn't be surprised to see the next update really soon. Also, Death Rally is still on sale for just 99¢, which is an absolute steal. You can refer to our original review of Death Rally or check out the impressions in our forums if you need some more convincing, and we'll keep our eyes peeled for the next update to come down the pipe.