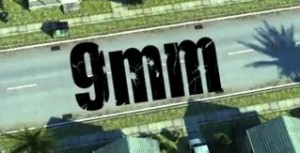 The wheels of Gameloft's marketing machine were set in motion again today, as the company has released a teaser trailer for a new upcoming game. Called 9mm, it looks to be another 3D action game centered around crime, not totally unlike the Gangstar series. So far, 9mm looks a lot better than either of the Gangstar games though. The graphics look greatly improved and there seems to be a more serious, grittier tone to the style of the game. You can even catch a quick glimpse of a stripper dancing and a couple F-bombs getting dropped in the trailer's soundtrack. Whoa, settle down Gameloft!
Another interesting twist in 9mm is that it appears you'll be playing the role of a police officer in the game, rather than a street thug. The main character that's portrayed in the trailer seems to place someone under arrest, and a subtle hint on Gameloft's German Twitter account that translates to "Only the bravest cops can keep peace and order in the toughest areas"  which also leads us to believe you'll be playing as a man of the law. One that plays fast and loose with morals, apparently, but a law man nonetheless. Could this finally be my oft-dreamt about video game version of the movie Training Day? One can only hope.
Also worth mentioning is the use of a bullet-time slow down effect during one of the action sequences in the trailer, which was pioneered by the Max Payne series of games. It may be that this plays a part in the actual gameplay, or it could just be a neat effect used for the trailer itself. At this point, anything is just rampant speculation on my part.
Speaking of rampant speculation, there is plenty of that going on in the upcoming thread for 9mm in our forums. If previous Gameloft releases are any indication, there should be a solid gameplay trailer to follow up this teaser in the next few weeks or so, and I would guess that an actual release isn't more than a month or two away. We'll let you known when we hear anything more on Gameloft's 9mm.