Grab your whet stone app and find a virtual squire — you'll need them, no doubt, to best the hordes of Infinity Blade [$5.99] slaves waiting for this bit of news. On this Thursday, May 19, the oft-promised competitive multiplayer update to Infinity Blade goes live alongside some new, though traditional content additions all for the generous price of $0.
The competitive online component has been dubbed "Infinity Blade: Arena," but aside from its monster-versus-dude twist, point, usage of Game Center, and its titling, we still know almost next to nothing about it.
No worries if you can find the time to spare this afternoon, though. Game creator Chair Entertainment will be doing a special Facebook Q&A session this afternoon at 4:30 EST to answer these lingering pre-launch questions.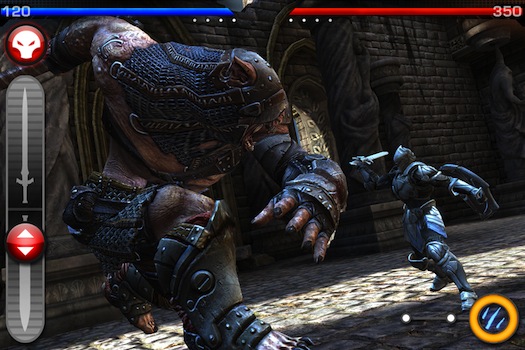 Back to those other content additions I mentioned: in addition to "Arena," this content update will see the release of "two dozen" new rings, swords, shields, and helmets, as well as Facebook integration, and new achievements. Also, Chair will be dropping in a new Boss Rush mode called "Survivor Mode," that'll have you fighting against Titan after Titan in an attempt to get a high score. Oh, and holiday helms! Everyone loves those.
That's one hell of a free content drop for any kind of game, right? I can't wait to hack you dudes up this Thursday.