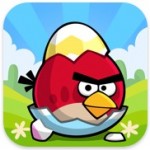 As we discussed last week, and has become commonplace whenever a new holiday rolls around, Rovio has released an update to Angry Birds Seasons [99¢/Lite/HD] adding 15 brand new levels themed after the upcoming Easter holiday. In addition, there is a new Easter leaderboard and several new achievements in Game Center, as well as some new golden eggs to discover.
Rovio has also released a new gameplay trailer showcasing the new Easter levels, which are full of brightly colored eggs and pigs clad in bunny ears. Check it out:
This latest update is free for current owners of Angry Birds Seasons and the iPad version Angry Birds Seasons HD, so make sure to grab the latest version to check out the new Easter theme. We're still waiting to hear more about Rovio's planned game save syncing across multiple devices, and we'll let you know when we have more concrete details about that feature.
In the meantime, feel free to speculate on the next holiday update for Angry Birds Seasons. The smart money would most likely be on obvious choices like Cinco de Mayo or Mother's Day, but I'm hoping Rovio doesn't forget about the renowned National Dance Like A Chicken Day on May 14th.