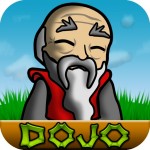 Early last month Team Phobic launched their newest title Undead Island, an action platforming game with a bad ass female ninja for a lead character, cleverly designed levels with tons of hidden areas to discover, and a robust physics system that made hacking up undead enemies a ton of fun. Due to a trademark issue, Undead Island has been renamed to Undead Ocean [99¢], which took effect with the update that just hit for the game. Also added in that update is the ability to swap the controls if you like and various other tweaks and bug fixes.
Far more interesting than the name change update is the simultaneous release of a free, ad supported prequel to the game called Undead Ocean Dojo [Free]. It features 5 levels not found in the full game, and tells the story of how our heroic ninja grew up training in her dojo and the events that lead up to Undead Ocean. It's a pretty cool way to do a lite version, and offers a bite sized experience that current owners of the full game should still check out. It even features Game Center with 5 achievements and leaderboards for the included 5 levels.
To celebrate the release of Undead Ocean Dojo, the full version of Undead Ocean is currently on sale for 99¢. And to celebrate even further, Team Phobic's wildly popular platformer Bounce On 2: Drallo's Demise [Free] has gone free for a day. The sequel to their beloved first platformer Bounce On [$1.99/Lite], Bounce On 2 features a ton of content and is easily one of the best platforming games in the App Store. It's a must download during the current free promotion, and while you're at it, make sure to check out Undead Ocean Dojo and if you like what you see grab the full version Undead Ocean while it's on sale.