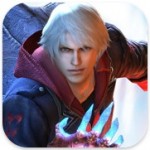 It was just a couple of weeks ago that Capcom Mobile unleashed Devil May Cry 4 Refrain [$4.99] into the App Store. This mobile version of the 2008 console game featured merely average visuals and repetitive level designs, but really nailed the controls and combat system. There was just something very satisfying about beating up on the many baddies in the game and pulling off stylish combos, and despite its few drawbacks we enjoyed Devil May Cry 4 Refrain in our review.
One other aspect to the game that was underwhelming was its length. The 10 levels in the game could be completed fairly quickly, and although there was incentive to go back and replay levels to earn a better grade it still left us with the feeling that we wanted more. Capcom had promised updating Devil May Cry 4 Refrain with a new playable character, series mainstay Dante, and last week they fulfilled that promise much quicker than I could have expected by releasing a free update.
While you'll still play through the same levels with Dante as you did with Nero, he does come with an entirely new storyline and his own set of offensive moves and upgrades. Playing through the game again with Dante and unlocking all of his associated moves goes a long way towards increasing the length of the whole Devil May Cry 4 Refrain experience. This new content does come with a price increase however, but with two different playable characters the $4.99 price tag is still fairly reasonable for fans of the series.
Of course if you already own Devil May Cry 4 Refrain, make sure and update to the latest version to give Dante a spin, but note that he only becomes available to play as after completing the game once as Nero.