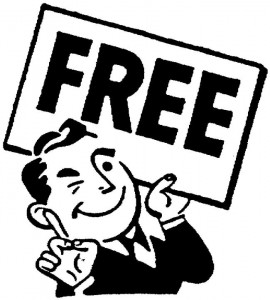 Did you burn all of your iTunes credit you had saved up on Dead Space last night? Have you given up actually purchasing games as part of an extremely odd New Year's resolution? Or, maybe, do you have such a terrible case of the Mondays that it has become a case of the Tuesdays? Well, here's a whole load of great free games to nab. Of course, the standard App Store pricing disclaimer is in effect here in that all of these games are free as of this writing, but they could go back to paid at any time. So, really, it's in your best interest to just mash your download button as hard and as fast as you can on all of these games before they go back to their normal prices.
AR Invaders, $1.99 - [Forum Thread] – This game was nominated in the International Mobile Gaming Awards as one of the best real world games and now you can try it for free. Basically, it uses the camera of your device to overlay an alien invasion on top of your nearby surroundings. It's a pretty cool augmented reality tech demo that's totally worth checking out.
Buster Red, $0.99 - [Forum Thread] – Huge lasers, bullets everywhere, massive bosses, tons of enemies, multiple ships to play as, and many other features come packed in this vertical shooter. It has achievements, leaderboards, and some pretty awesome music to boot.
Cat Physics, $1.99 - [Review] – [Forum Thread] – I'm reluctant to really call Cat Physics the best Donut Game, but I do love cats, physics, and Donut Games… In this particular title, you need to roll a ball between two cats. Of course it's not that simple, however, as these cats seem to play in the strangest of environments.
Hysteria Project, $2.99 - [Review] – [Forum Thread] – To hype of the release of the sequel due out on the 27th, the original Hysteria Project is free for a limited time. I still think this game is pretty cool, as it reminds me a lot of early full motion video games where you view canned footage with branching points, kind of like a video choose your own adventure book.
Jungle Crash Land, $1.99 This seems to be one of the forgotten Donut Games, as not many people on TouchArcade are talking about it. I'm not sure why, because it's a heck of a lot of fun. The basic premise amounts to you've got a plane landing on a runway that's covered in rocks and other junk that you need to shoot with missiles first. Sure, it sounds goofy, but give it a spin.
Liberty Wings, Free - [Forum Thread] – Do you like flying planes, shooting things, and playing three distinctly different game modes? Well, Liberty Wings is the game for you. It has a campaign and freeplay mode, as well as OpenFeint integration for all that fantastic OpenFeinty stuff.
muBlip, $0.99 - [Review] – [Forum Thread] – Part rhythm game, part Simon, muBlip is a stylish game of music, timing, accuracy, and memory. I gave it a try when it was first released and was surprised by just how difficult it was, especially as you progress through the levels. I never dared to try the "hardcore" mode.
Phoenix Spirit, $0.99 - [Review] – [Forum Thread] – If you've been looking for a good Metroid/Castlevania style game on the App Store, give this one a try. In Phoenix Spirit you play as a flying squirrel, which is pretty cool until you discover that the game's control scheme revolves around gesture-based gliding. If you find yourself enjoying the controls, you'll be in for a treat.
Skycat and the starchildren, $0.99 - [Review] – [Forum Thread] – I thought this game was great when it was first released, but with a limited pool of content and no endless mode it was a little hard to recommend. Now that it's free, you can see what all the fuss is about at no cost! Seriously, give this game a try, it's a surprisingly fun platformer.
Sunday Lawn, $0.99 - [Forum Thread] -The third and final free game from Donut Games. Sunday Lawn is a puzzle game involving mowing lawns while avoiding obstacles. It also saw a substantial update since its initial release which added 30 new levels and all kinds of other fun stuff.