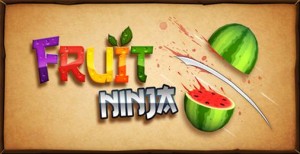 Most everyone who owns an iOS device has heard of Fruit Ninja by now. The definitive fruit slicing game debuted in April of last year, quickly rose up the ranks, and has maintained a steady position in the top of the App Store charts ever since. Fruit Ninja has been downloaded and enjoyed by millions of people, but I don't think any of those millions have taken their passion for the game quite as literally as the comedy group The Misunderstoods.
As Kotaku has pointed out, two members of that group have decided to try and find out what it would be like to be a "fruit ninja" in real life. Or perhaps they just couldn't afford an iOS device and wanted to join in on the fun. Either way, the results are pretty hilarious.
Note: Both of these videos contain shirtless dudes and a couple of naughty words. Either of these things may not be suitable for your current viewing location. You have been warned.
Oh, hey there, pretty funny right? Since you seem to have made it past our first set of warnings, let me offer up one last one for you: Kids, don't try this at home. You don't need to be messing around with knives, destroying your mother's groceries and making a mess in the garage. Leave that to the professionals. For a safe way to be a fruit ninja, grab a copy of the game if you haven't already, as it's one of the most solid purchases you can make on the App Store.
[Via Kotaku]